Sri Lanka panel warns that 'conflict threat' remains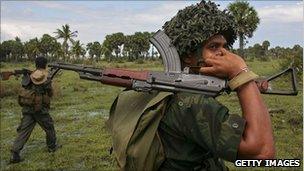 A panel looking into the final years of the Sri Lankan war has heard that the threat of conflict remains.
The disclosure came on the second day of public hearings by the panel, whose formation and remit has been criticised by the US and human rights groups.
They argue that an international inquiry into the Sri Lankan conflict is needed, a proposal that has been roundly rejected by Colombo.
The army defeated Tamil Tiger rebels after intense fighting in May 2009.
In two days of hearings, the panel has taken detailed testimony from four expert witnesses.
There have been some quite strong political messages for the government, though little challenge to them on human rights.
Leading social scientist Godfrey Gunatilleke - who comes from the majority Sinhalese community - said that a year after the defeat of the rebels, the human and political roots of the conflict remained unsolved.
"Unless we forge that national consensus and develop a Sri Lankan identity to which all communities can belong, to which all communities can owe allegiance... we will still be managing a conflict situation and dealing with problems as they arise," he said.
Mr Gunatilleke said that a full and transparent account was needed of the war's final, controversial months.
On issues of human rights violations, however, both he and the panel members said the international community was to blame for not sufficiently condemning rights violations by the rebels, specifically their use of people as human shields.
Thursday's other witness, an expert on child protection, was heavily critical of the foreign monitors of a failed ceasefire, and of foreign NGOs in general.
In a report, the US State Department says it has concerns about the commission' s independence and its mandate.
The Sri Lankan government has said in response that the commission - appointed by President Mahinda Rajapaksa - is "dedicated to fairness and impartiality".
Related Internet Links
The BBC is not responsible for the content of external sites.