Is Nato losing the war in Afghanistan?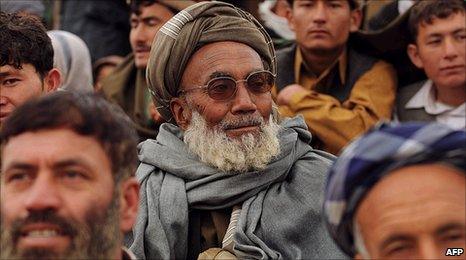 Under a sweltering sun, the Afghan border police are being put through their paces in Hairatan, a nondescript border town that is a crucial supply route for Afghans and Nato forces alike.
Even as the American troops wax lyrical about their Afghan colleagues, a rusting iron bridge looms behind us.
It is where Soviet forces first poured into Afghanistan three decades ago, over what they called the Friendship Bridge.
Ten years later, the last of their 100,000 soldiers retreated here in a bedraggled armoured column, leaving behind a ruined country - and their own empire on the verge of collapse.
But there is little time to stop - the helicopter is waiting for us on this whirlwind Nato tour to show journalists the progress made in the campaign in reconstruction and development.
We head to the German base just outside Mazar-e-Sharif, a town seen as an Afghan success story.
How much that has to do with Nato is debatable - this was the Northern Alliance's territory, long foes of the Taliban, and Pashtuns are in the minority.
Yet even here, in the peaceful north, the 4,000 or so German troops - and a similar number of Americans - are coming under attack from a growing insurgency.
The base commander, Brigadier General Hans-Georg Schmidt, says even the PRTs - the provincial reconstruction teams of civilians working with the military - are targets.
"In a major city like Mazar-e-Sharif, the local government is working well, but as soon as you get out into the countryside, smaller villages are all threatened by Taliban," he says.
"There are pockets of insurgents around Kunduz and elsewhere, and in those areas, in particular the Americans suffered heavy casualties over the past few weeks. But also in the west, the Swedish PRT is under constant attack from insurgents."
We travel in a German armoured vehicle to a local factory, where the Swedish/Finnish PRT and American aid agency USAID have invested in new equipment for canning tomato paste.
The factory now employs more than 70 people. With unemployment in the region almost 70%, the workers here - many of them women - are grateful to have jobs.
Shakira tells me she has five children to feed. She believes security is better now, but worries about what will happen when Nato forces leave.
Her boss, factory owner Sayed Arrif, says he is not worried about security, because the Taliban came mainly from the south and Pakistan, whereas this region borders Uzbekistan, a neighbour he says does not interfere with Afghanistan's affairs.
Driving back through Mazar-e-Sharif, election posters are everywhere for September's parliamentary vote.
In at least one province, candidates have been shot dead in what the governor there called "unhealthy competition".
There are serious worries these elections could provoke more widespread unrest.
Gul Makai Siawash is one of the candidates here, and she is not afraid to speak out. She says many Afghans are losing faith in Nato, their government, and their future.
"Security is not good here," she says.
"America and other foreign troops have been here for nine years. Why we don't have peace and security? I believe, in my life, there will be no peace or social justice. What I want is a better life for my children."
Many say that it is only in the past year or so that Nato has woken up to the scale of its early mistakes, and started to get serious by committing more troops, and insisting on a unified command while trying to meld the squabbling civilian and military efforts of 46 allies into a concerted campaign.
But just as Nato's troops step up their efforts under their third new commander in little over a year, allies are gradually pulling their troops out as political will in western capitals diminishes.
The Dutch have just left, the Canadians are next and the UK wants to end combat operations by 2015.
So far, the Afghan army is nowhere near ready to stand on its own two feet, despite its growing numbers, as a recent bloody defeat suggests.
Yet when we travel to Helmand, the US Commander running Nato's fight in the heartland of the insurgency remains upbeat, despite a summer which saw the alliance's worst casualty rate so far.
Major General Richard Mills insists the political timelines being set are not his problem.
"If anyone is on a timeline, I believe it's my opponent. The insurgent is on a tight timeline. He's losing the military fight on the battlefield, and now he's losing the will of the people.
"He has a very short time to regain that momentum, and he's getting desperate," the general says vehemently.
"He hangs seven-year-old boys because their father got a job. He lays bombs in the bazaars to blow up women and children. He burns schools. He's the one who is on a timeline. I'm not."
As we fly back to Kabul, only one person we have spoken to in six days has had a good word to say about the government of President Hamid Karzai - and that was someone who had been appointed by the president.
The anger felt by so many over official corruption and a culture of impunity for the well-connected is real and deep in Afghanistan - and it is helping fuel the insurgency.
The over-riding impression from a tour aimed at seeing progress was the impression that many Afghans are sitting on the fence, increasingly unwilling to throw in their lot with the government that Nato forces are in Afghanistan to support.
Nato may be winning every battle it fights, but there is a real sense that it is still in danger of losing the war.
Related Internet Links
The BBC is not responsible for the content of external sites.