Pakistanis aid flooded communities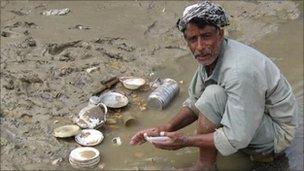 The Pakistani government says up to 20 million people have now been affected by the monsoon floods.
BBC News website readers in Pakistan have been telling us how they are trying to help fellow country men in dire need of assistance.
Owais Barlas is helping a community in Risalpur
I work as a systems engineer in Islamabad but since the floods started, myself and my colleagues have been trying to help out.
I've started a group on Facebook to get the global community to donate funds and pitch in. Initially, we were providing non-perishable food items to a contact I have in the army, who was dropping the food from helicopters.
Now we've decided to focus on a specific area which was devastated by the floods. On Sunday we went to Sanober village in Risalpur in the North-West Frontier Province. We had a four hour conversation with the elders of the village and have pledged to help their community of around 1600 families.
Initially, we will provide food and tents. Further down the line, we plan to provide proper infrastructure for the community - roads, schools and houses.
The process is very transparent - we post all the receipts on Facebook and show how the money is being spent.
Although I work full time, I plan to continue helping because the Pakistani community is in dire need of assistance.
Mohammed Zubair will help his neighbour in Attock rebuild his home
I'm from Birmingham and I came to Pakistan a month ago because my mother who lived here sadly passed away.
When I got to Attock it hadn't rained for 18 months. People were saying how the crops needed water. Then suddenly there was a downpour.
My neighbour's home got flooded and I helped him bring his stuff into my house. It wasn't just me - the villagers were all running around taking his furniture to higher ground.
His house just got swept away. His wife and six children are staying with family and he's staying with us for now.
My family has donated money to him to rebuild his house - in Pakistan building a house costs one or two thousand pounds - much less than it does in the UK - but he's very poor.
The situation is terrible, you just can't imagine it, unless you are here.
The kids play in the water but they don't realise how dirty it is. There's no sewage system, so the gutters are overflowing.
I had a slight cut on my foot and now my whole foot is infected. That's obviously nothing compared to people who are homeless, but it gives you an idea of how dangerous the flood water is.
Omar Khan is delivering aid across the country's north-west
I'm from Karachi but I've been visiting the north-west of the country to help the victims of the floods who are completely cut off. People are hungry - I've seen dozens of women and children who have no food at all.
A widow with four daughters threw herself at my feet and begged me for food. She is worried that her daughters will starve.
People here speak Pashto and I speak Urdu, so I'm like a complete foreigner but I'm doing what I can.
When Pakistan's earthquake hit in 2005, I provided aid to affected people. My friends saw what I did then, so they have given me money to buy food and medicine.
I have visited Nowshera, Charsadda and a remote village between Swat and Shangla bringing food. I've found people who also want to help and we travel together. We fill trucks with flour, sugar, rice, mosquito repellent and medicine but we cannot reach remote areas by road, they can only be reached by foot. There is no more infrastructure.
We're exhausted because we walk about five hours a day to get to areas that we can't drive to. Many villages are in the mountains, so we walk uphill.
There's only so much food we can carry - we tell village elders that we have food and they make villagers come down with us to get it.
People need food and medicine desperately, disease and starvation is spreading.