'Honeymoon suite' to boost Nepal rhinos' love life
By Joanna Jolly
BBC News, Kathmandu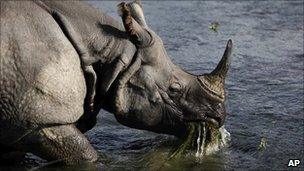 A "honeymoon suite" for two rare rhinos has opened at a Nepal zoo in the latest attempt to encourage the pair to mate.
Kancha, 20, and Kanchi, 22, have lived together in captivity for most of their lives, but the Asian one-horned rhinos have never bred and often squabbled.
Officials at the zoo in the Nepali capital Kathmandu hope the pair's new, much larger home will finally put them in the mood for romance.
Asian one-horned rhinos are endangered. In Nepal, only 435 remain in the wild.
Thousands of the species once roamed the plains of Nepal and northern India, but their numbers have dwindled due to poaching and habitat loss.
Kathmandu Zoo's conservationists hope the rhino's decline could be reversed with the help of their new mating enclosure.
Kancha has been seen wallowing in a pool of muddy water with his female companion, Kanchi.
Although the pair have been in captivity together for 18 years, this display of closeness used to be a rare sight.
A cramped enclosure meant they often fought and had to be separated.
But their new "lovenest" comes complete with a large shared area as well as separate living quarters.
The project has been funded by the Ace Development Bank of Nepal, whose chief executive, Siddhant Pandey, said the enclosure already seemed to have improved the rhinos' relationship.
"In the past they kept them apart because they used to fight a lot, but recently... you see them socialising," he said.
Zoo officials say if the breeding programme is successful, they will eventually be able to release one-horned rhinos back into the wild.
Related Internet Links
The BBC is not responsible for the content of external sites.