Pakistan floods: Maps and graphics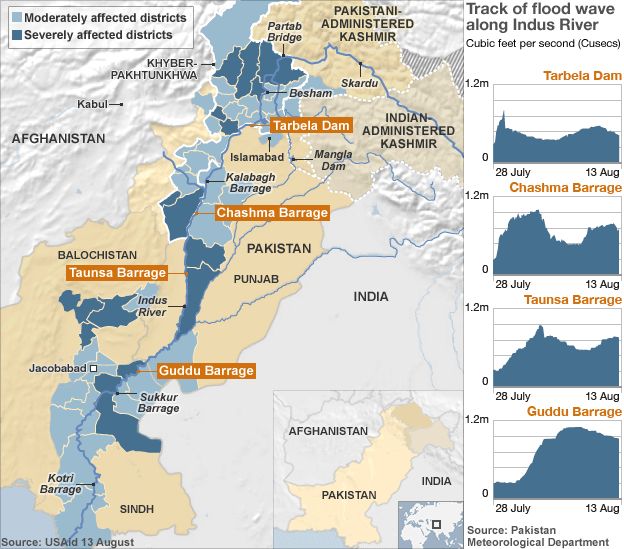 29 July: Floods triggered by heavy monsoon rains in north-west Pakistan cause rivers to burst their banks and entire villages of mud-brick houses are destroyed.
31 July: The UN describes the monsoon floods as the worst in living memory, while Pakistani authorities put the death toll at over 800.
2 August: Officials say the death toll has passed 1,100 as 30,000 troops join the rescue efforts.
4 August: The UK's Disasters Emergency Committee launches an appeal for aid to help people hit by the flooding.
6 August: The UN says that at least 1,600 have been killed and 14 million people affected.
8 August: Heavy rain hampers rescue efforts and a red alert is issued for the south of the country.
9 August: Flood levels rise above danger levels at a key flood barrier in the southern province of Sindh.
11 August: The UN launches an appeal for $459m (£290m) to provide for the immediate needs of those affected.
12 August: Pakistan's food minister tells the BBC there have been "huge losses" to his country's crops.
14 August: Pakistan's Prime Minister Yusuf Raza Gilani says 20 million people have been affected by the country's floods.
15 August: UN Secretary General Ban Ki-moon says the scale of the disaster was worse than anything he had seen before.
Comparing satellite images
Satellite images show how the Pakistan flood waters have swollen the lower Indus River, completely filling the river valley, when compared with images of the same area one year before.
The flow through the Sukkur Barrage has reached levels of 1.4m cubic feet per second (cusecs). The barrage is only designed to withstand a maximum of 0.9m cusecs.