Rocker Salman Ahmad plans Pakistan flood victims song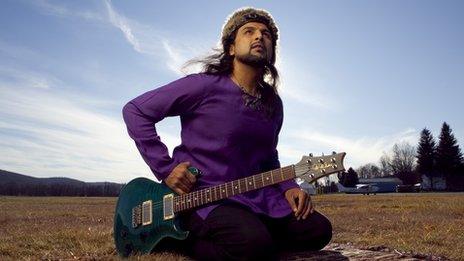 Pakistani-born rock star Salman Ahmad is penning a new song to raise funds for the country's flood disaster.
Khwab - the Urdu word for dream - is due to be ready in a couple of weeks' time and Ahmad hopes to record it with Pakistani and Western artists.
He told the BBC it was important to let young Pakistanis know the world cared for them in their hour of need.
The official UN aid appeal launched last week has raised only a quarter of its target of $459m (£290m).
Ahmad, who has described his music as part of a cultural battle against Muslim extremism, said he was concerned that disillusioned young Pakistanis might turn to violence in the future.
Speaking from New York, he told BBC World Service that he realised that people in the West were hesitant about helping, asking why they should care for a country associated with extremism.
"[But] there are 100 million-plus young people under the age of 25 who can go two possible ways into the future," he said.
"They can follow their dreams or they can give in to the extremists and the Taliban who want them to go blow themselves up.
"If they feel that the world cares for them, you may change the destiny of Pakistan. Not only is it humane but it is urgent self-interest - this is a moment to win hearts and minds."
Ahmad said his mother, his two sisters and his brother were all in Pakistan, and he was in contact with them by phone almost daily.
The flood disaster, they told him, had "eclipsed" the Pakistan's conflict with militant groups.
Appealing for other artists to record with his band, Junoon, he urged his friends in India to join them and "come together for Pakistan".
Ahmad has a huge following in Pakistan where, in the 1990s, his band were banned from performing after they took a stand against political corruption in a song called Accountability.
A Beatles fan inspired musically by Led Zeppelin, and spiritually by his Islamic faith, he sees his music as a cultural bridge between East and West.
Related Internet Links
The BBC is not responsible for the content of external sites.