From war zone to boomtown for Helmand capital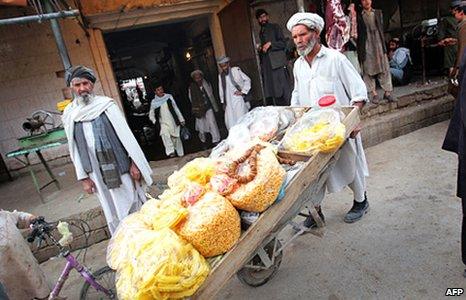 Lashkar Gah, the capital of Afghanistan's Helmand province, was a war zone when the BBC's Bilal Sarwary visited four years ago. Upon his return he discovers it completely transformed.
In 2006, Lashkar Gah resembled a ghost town.
Deserted streets littered with shell casings, ruins in the name of buildings and dust-filled roads lined with burnt vehicles.
The silence was occasionally broken by bursts of artillery and gun fire.
There was the feel of death all around.
Lashkar Gah today is teeming with life.
Fast-rising buildings, markets filled with shoppers and restaurants blaring loud music.
It seems the city wants to make up for lost time.
Its mud trails which once passed for roads have been replaced by two-lane asphalt streets. And instead of armoured vehicles, there are cars.
In fact, the number of motor vehicles has grown so much in the past few years that wardens have been deployed on all main intersections to ensure smooth traffic movement.
Although small, the city now has a proper airport - built by the United State's development agency USAID.
There are now daily flights connecting Lashkar Gah with the capital Kabul.
Earlier, there was only an air strip that was open only for Western forces and aid agencies.
Residents, traders, Afghan government officials and others had to use the Lashkar Gah-Kabul road, which runs through the Taliban strongholds of Kandahar, Zabul, Ghazni and Wardak.
The people now have the option to fly to Kabul.
But what has brought about this change?
The answer is peace, established by the Afghan National Army with the help of Western forces, particularly the British Provincial Reconstruction Teams (PRTs).
The PRTs are military and civilian groups which have played a key role in Nato's mission to stabilise Afghanistan.
For the transformation of the city, residents also credit provincial Governor Gulab Mangal, who has a reputation for probity and competent administration.
"Security is good in Lashkar Gah. Peace has helped business," says fruit-seller Haji Mohammad Khan.
"Also, heavy fighting in other districts of Helmand has forced people to flee to the safety of Lashkar Gah. The arrival of these people is providing the city a steady stream of cheap labour," he says.
Mohammad Pasoon, who runs the Bost radio station in Lashkar Gah, agrees.
''A year ago, people were afraid to step out of their homes. They wouldn't dare to even go to the park. There was nothing in the name of security. The presence of Western forces has dispelled that fear."
Mr Pasoon's radio station is also a beneficiary of peace.
Until a few years ago, Bost was struggling to stay on air. There was no money to even meet the daily expenses. But now there is a long queue of advertisers.
''Shopkeepers, construction companies, non-governmental organisations and government all send us advertisements. You do business when there is security," he says.
Lashkar Gah is also witnessing a boom in property prices.
"The news that business is good here has reached other districts of Helmand. People in those areas are willing to sell everything off in their native places for a piece of land in Lashkar Gah," a property dealer said.
Lashkar Gah's landscape is also changing.
One can see branches of several Afghan banks along the main street.
There are also private clinics and hospitals.
''It is the result of good governance. If traders do not feel safe they won't open their business. Same for people, they will not leave their homes if they do not feel safe,'' an aide to the governor said.
Related Internet Links
The BBC is not responsible for the content of external sites.