Pakistan floods: World Bank to lend $900m for recovery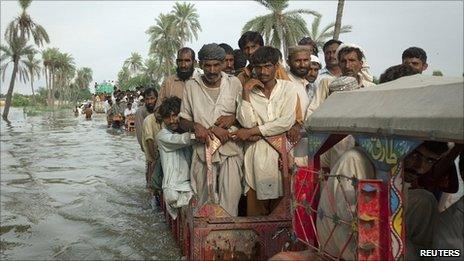 The World Bank is to loan $900m (£574m) to Pakistan to help it recover from its worst ever flooding.
The devastating floods have affected up to 20 million people and left some 2,000 dead, say officials.
But the UN says international aid has been slow and that it has raised only a third of the $460m (£294m) needed for emergency relief.
Pakistan's High Commissioner to Britain said it could take five years and $15bn (£9.6bn) for the country to recover.
The World Bank funds will come through the reprogramming of planned projects and the reallocation of money, a World Bank spokesman said.
"We are reprioritising to make the funds immediately available," he told Reuters news agency.
Health officials have warned that disease could spread quickly among the millions of displaced people and that 3.5m children are at risk.
Maurizio Giuliano, of the UN Office for the Coordination of Humanitarian Affairs (OCHA), warned that Pakistan would face "a second wave of deaths" from water-borne diseases and food shortages unless more aid arrived soon.
He estimated the number of people at risk from such diseases was six million.
Meanwhile, rival political groups in Sindh province have been accusing each other of creating breaches in embankments and dykes to save their own towns and property.
Many of the breaches were reportedly made to divert flood waters away from military garrisons in the area.
Jacobabad city, for example, has been saved, but low-lying areas around it, including Dera Allahyar and some other towns in Balochistan province, have been inundated.
In India, Prime Minister Manmohan Singh has promised more funds to help areas affected by the recent devastating floods in Ladakh, a remote mountain region in Indian-administered Kashmir.
During a visit to the heavily damaged town of Leh, he said all the destroyed homes would be rebuilt within the next two-and-a-half months with money from a government relief fund.
The flash floods over 10 days ago killed more than 80 people and caused heavy damage to property. Many people are still missing.
Pakistan's High Commissioner to Britain Wajid Shamsul Hasan told the AFP news agency that 2,000 people had now been killed by the floods - previous estimates have put the number of dead at around 1,500.
He said it would take at least five years for the country to recover, and put the reconstruction bill at "more than $10 to $15bn".
He warned that a failure to provide sufficient relief and rebuilding assistance could lead to an increase in extremism and instability in the wider region.
He called for a new Marshall Plan, referring to the extensive US development programme in Europe after World War II.
Not only have the floods affected around one-fifth of the country, they have also caused considerable damage to roads, bridges and communications, says the BBC's Mike Wooldridge in Islamabad.
Thousands of homes and other buildings including schools and hospitals have been swept away, and crops for domestic food consumption and for export have been lost.
One of the key questions is whether farmers will be able to use their land to plant their winter wheat crop in September, our correspondent adds.
The UN has so far only received about a third of its appeal amount - the US has made the biggest contribution so far, followed by the UK.
Aid agencies have blamed Pakistan's "image deficit" for the shortfall, as potential donors fear the funds would be diverted into extremism in the country.
A spokeswoman for Care International told AFP the UN had to do more to convince donors that the money was "not going to go to the hands of the Taliban".
"The victims are the mothers, the farmers, children. But in the past, information linked to Pakistan has always been linked to Taliban and terrorism," said Melanie Brooks.
Bill Berger, USAID's principal regional adviser for South Asia, told the BBC it had been difficult to communicate the scale of the disaster to the rest of the world:
"Remember that this flood has built up over time... I just don't think the world has realised the magnitude of this now, because this story has just been slowly increasing. It doesn't have the drama of an earthquake that impacts a huge number of people all at once."
The floods began more than two weeks ago in the mountainous north-west and has swept south across a quarter of the country, including its agricultural heartland.
BBC Urdu will transmit six daily bulletins in Urdu and Pashto providing vital information including how to stay safe, avoid disease and access aid. Special programmes will be broadcast each day in Urdu at 12.30, 15.30 and 18.30 and in Pashto at 12.45, 15.45 and 18.45 (local times).
Related Internet Links
The BBC is not responsible for the content of external sites.