Sri Lanka leader's brother testifies before war panel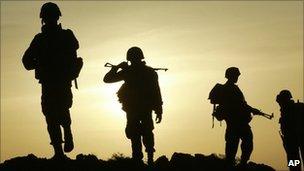 The man who oversaw Sri Lanka's defeat of Tamil Tiger rebels has said he believes more than 6,000 of them were killed in the final stages of fighting.
Defence Secretary Gotabhaya Rajapaksa said that international critics of the government tended to confuse rebel deaths with civilian ones.
The secretary was testifying before a commission examining the years leading up to the end of the war in May 2009.
Mr Rajapaksa is the brother of President Mahinda Rajapaksa.
He is widely seen as the mastermind of the war victory, and gave a robust response to allegations that have dogged the Sri Lankan government and military over the conduct of the campaign.
One of the most recent of these was a report by the think-tank, the International Crisis Group, alleging that their actions killed tens of thousands of civilians.
Mr Rajapaksa rejected this, saying that in fact the army suffered 6,000 deaths and 30,000 injuries in the war's final stages and, he believed, the Tamil Tigers sustained as many casualties.
"If the army suffered that much of casualties because of the fighting, at least the same amount of casualties you can expect from the Tamil Tigers as well," he said.
"I'm sure it is much more because the firepower of the government forces is much more."
Speaking calmly and repeatedly passing the commissioners dossiers of information, Gotabhaya Rajapaksa said it was the Tigers who had killed innocent people by shooting at them as they tried to flee.
He also denied recent reports that permanent housing for army personnel and their families was being built in northern Sri Lanka - something which Tamil MPs claim is being done to change the area's ethnic make-up.
"That we have not done and we have no intention of doing that," he said.
"These are military camps... to provide accommodation for soldiers and officers... but we have not sponsored any settlement in these areas."
But he said the military would continue to "dominate the jungles" there and prevent a rebel resurgence.
Mr Rajapaksa also said that the military had "converted" Selvarasa Pathmanathan, nicknamed KP, the most senior rebel leader now in government custody.
He was captured in Malaysia a year ago and in June met a visiting group of Sri Lankan Tamils who live abroad.
Mr Gotabhaya confirmed reports that the government has persuaded him to abandon any violent ideology.
Related Internet Links
The BBC is not responsible for the content of external sites.