Mingora struggles to overcome flood devastation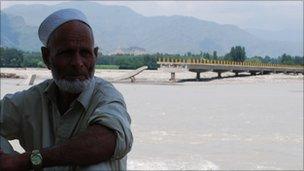 Destroyed buildings and washed-away bridges are a common scene these days in the town of Mingora and its surroundings in Swat valley.
Until last year militants used to blow them up, but now nature has taken its course as swirling flood waters have swept away lives and livelihoods.
"The bridges have been destroyed," says Rahim Zada, a resident of Mingora.
"For 20 to 25 days there has been no electricity. Prices have gone up too. Tomatoes are being sold for [the very high price] of 100 rupees ($1.16) a kilo.
"The produce is stuck in the farms because of washed-away bridges. Hospitals are open but there is neither any staff nor medicines," says Mr Zada.
Matta, Kalam and Madain were the worst hit by recent rains and floods.
Food shortages are a constant challenge for the authorities. When weather permits, helicopters undertake some deliveries, but everyone agrees it is not enough.
This is the peach and onion season in Swat. While most of the produce has been destroyed by rains, the farmers are desperate to get their remaining fruit and vegetables to the markets.
At several places on the banks of the gushing River Swat, one can witness hundreds of people from both sides trying to cross.
Among them are desperate local farmers. They ferry their fruit and vegetables across the river to the Mingora markets. They use locally made boats - constructed out of tyre tubes.
Everyone knows they are unsafe.
"Actually people are quite confused here. The other day a boat sank, and a woman was killed. It's a very difficult time for the people," Badr Munir, a farmer from the Koza Banda district of Swat, told the BBC.
"My orchard was ruined by rains and my onions and peaches destroyed. Whatever is left I am trying to take to market - because I can't wait for roads to open.
"But half my produce gets wet while transporting it over the river and will not fetch even half the price that it should."
In Kalam district, officials say the road - which usually stretches for miles - has been washed away, with nothing left to rebuild on.
But if life in Mingora's outlying areas is tough, the town itself is slowly returning to normal, except for its lack of electricity.
Rains and flood waters washed away all the electricity poles, and workers are still repairing the power lines.
Officials say the town may get electricity in the next few days, but the whole valley may have to wait several months.
The few relief camps set up by the government or welfare bodies in the city are almost empty.
An official told the BBC that the reason was that people preferred to stay with relatives rather than in the camps.
"They do come for relief items, but they don't wish to stay here," he said.
More than 24 bridges have been washed away, not only disrupting business life in this beautiful valley but also hampering the ongoing operations of the security forces against Taliban militants.
Civil and military authorities are therefore trying to restore the road links as soon as possible.
They say these links are crucial not only for urgently getting aid to flood-affected people in the remote areas but also to keep the militants at bay.
Officials admit the calamity, which claimed over 100 lives, destroyed hundreds of houses and thousands of acres of farmland, has also put a stop to efforts to rehabilitate captured Taliban militants after their forced exit from Swat - at the hands of the army - last year.
Officials also fear that if Swat's floods are not dealt with properly, the conflict could swing in the militants' favour.
"I can't rule it out. Things are pretty serious here," says Mingora assistant co-ordination officer Imran Qureshi.
He says that Swat needs to be "handled with extra care" by the government.
Related Internet Links
The BBC is not responsible for the content of external sites.