India Maoists set new terms for talks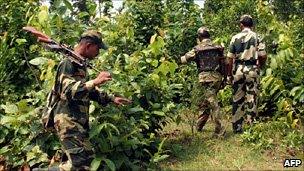 A senior leader of India's Maoist rebels has said that the government will have to declare a "simultaneous" ceasefire in order to enable talks between the two sides.
Koteswara Rao said this was the government's last "chance for peace".
India has asked the rebels in the past to unilaterally declare a 72-hour ceasefire to enable talks.
PM Manmohan Singh has described the Maoist insurgency as India's biggest internal security challenge.
India's Home Minister P Chidambaram has said that in order for the government to initiate a peace process with the Maoists, they must stop violent activities for 72 hours after which time the security forces will "not conduct any operations" against them.
He has said that the central government will then consult the "chief ministers of the affected states" to invite the Maoists to hold peace talks.
But rebel military wing chief Koteswara Rao alias Kishenji told the BBC that this was "not acceptable".
"Both sides must stop hostilities at the same time," he said.
Mr Rao also said the government will have to finalise the names of the mediators for the talks after "open discussions" with the Maoists.
He said the government should "punish" police and intelligence officials who the rebels believe are responsible for killing Maoist leader Cherukuri Rajkumar, commonly known as Azad.
The police said Azad was killed in a gunfight in Adilabad district in Andhra Pradesh in July. He was number two in the rebel hierarchy in the state and a spokesman for the Maoists.
The Maoists, also known as Naxalites, say they are fighting for the rights of rural poor who have been neglected by the government for decades.
Related Internet Links
The BBC is not responsible for the content of external sites.