Commonwealth Games chief in Delhi to visit venues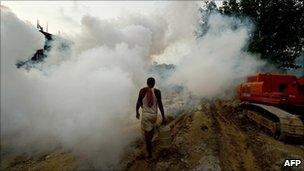 Commonwealth Games Federation head Mike Fennell is in the Indian capital, Delhi, to inspect last-minute preparations for the games.
Mr Fennell will visit the venues on Wednesday and attend a host of meetings with government officials on Thursday.
With the opening ceremony only six weeks away, the games have been overshadowed by allegations of corruption and building delays.
Earlier this month, two games officials were suspended while a third resigned.
Mr Fennell will spend the next two days looking at venues, some of which are still under construction.
Many of the venues do not have the required safety certificates.
Mr Fennell will get the latest updates on preparations and meet government officials to get assurances on security and logistics.
Indian Commonwealth Games officials have said all the venues will be ready by 25 August even though the event has been over-shadowed by a corruption scandal.
Earlier this month two leading officials from the organising committee were suspended.
They were accused of involvement in awarding lucrative contracts to foreign companies without proper consultation or formal contracts being signed.
Games treasurer Anil Khanna quit after reports claimed an Australian firm won the contract to lay tennis courts for the games because his son headed its Indian arm. Mr Khanna denied any wrongdoing.
Things have become so serious the Indian government has appointed a new group of ministers to oversee the preparations.
The organisers have now received some high-profile support.
Olympic President Jacques Rogge predicted that Delhi will stage a successful Commonwealth Games and criticised the media for being pessimistic.
Related Internet Links
The BBC is not responsible for the content of external sites.