Pakistan floods: What the aid means
By Mark Doyle
BBC International development correspondent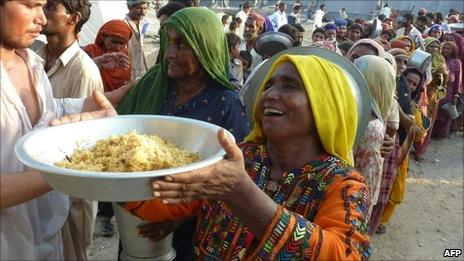 As flood waters continue to rise in parts of Pakistan, richer countries and aid agencies have been releasing their own torrent of press releases and announcements about how they are helping out.
So who is assisting - and by how much?
The immediate aid response has, as always in these crises, been mounted by local people on the ground - family and friends helping each other out.
In its rush to portray itself as a saviour, this is often forgotten by the outside world.
In the immediate aftermath of January's earthquake in Haiti, for example, far more people were pulled from the rubble by Haitians using their bare hands than were saved later by the better-publicised international rescue teams.
Similar things will have been happening in Pakistan. But the government in Islamabad has also said it needs massive help from abroad.
The early international response is being co-ordinated by the United Nations, which on 9 August launched a Flash Appeal for $459m (£294m) to cover the first 90 days of the disaster.
This was for obvious items like food, shelter and health care. But it also included other tools necessary in any aid package - telecommunications, for example, and "protection" - the UN's catch-all phrase for trying to safeguard the rights of displaced people.
Nearly half of this $459m has been raised - a total of $208m, with a further $42m pledged but not yet earmarked for specific projects.
Apart from individual countries, there are various UN funds and multilateral groups (such as the European Commission) giving money or aid-in-kind to the UN.
But these figures should be treated with caution because counting aid flows in any emergency is notoriously difficult.
Rich "donor" countries often double count their contributions to make themselves look more generous to voters at home, or to curry political favour with particular parts of the world.
They announce a figure at one pledging conference, for example, then announce the same projects at another forum as if the sums were separate amounts.
The donors also rarely point out that quite a lot of what they "give" goes straight into their own citizens' bank accounts in the form of salaries for aid consultants or contract payments to manufacturers of 4x4 vehicles.
Recipient countries often confuse matters too.
Sometimes they do not know how much they have received - precisely because they are in an emergency and accountancy is not their priority. Or they might have had a weak administration even before the emergency struck.
Some donors have contributed money to flood relief but not directly to the Flash Appeal. According to the UN this totals a further $72m in cash and kind.
Another complicating factor is that although donor governments and aid agencies make separate announcements about what they are spending, the money concerned is often the same.
This is because much of the income of the big charities is not, as many people think, derived from benefit pop concerts or volunteers collecting coins on street corners.
It comes, rather, from governments who "contract" them, like humanitarian entrepreneurs, to do relief work.
Some aid agencies, because of their own house rules, do not report what they have given through the UN system.
The Red Cross, for example, says it has supported the Pakistani Red Crescent in assisting some 300,000 flood victims. But this aid does not appear in the UN figures.
Pakistani Islamic charities have also begun reporting flood relief activities which are not listed as donations by the UN.
The website of the al-Khidmat (Service) Foundation - reportedly the welfare wing of the Jamaat-e-Islami, Pakistan's largest and most influential right-wing religious party - states that it has mobilised 16,500 volunteers and provided food and medical care to tens of thousands of people.
The money given for flood relief is small compared with the total amount that arrives in Pakistan and is broadly - and sometimes controversially - described as "aid".
In 2009, the United States spent some $7.5bn in Pakistan on strategic, military and development projects.
This money is, of course, part of a larger geopolitical picture. But some has certainly ended up being used in operations around the floods.
The Pakistani army, partly financed by the US, is a key player in disaster relief. Its planes and helicopters have been a critical part of many rescue operations.
BBC Urdu will transmit six daily bulletins in Urdu and Pashto providing vital information including how to stay safe, avoid disease and access aid. Special programmes will be broadcast each day in Urdu at 12.30, 15.30 and 18.30 and in Pashto at 12.45, 15.45 and 18.45 (local times).
Related Internet Links
The BBC is not responsible for the content of external sites.