Pakistan police arrest two for murder of Raza Haider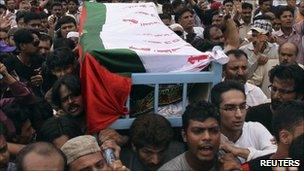 Pakistan police in Karachi have arrested two Sunni militants for the murder of a local politician, Raza Haider.
Mr Haider, a Sindh provincial assembly member for the MQM party, was gunned down in a mosque on 2 August.
His murder led to violence in Karachi and across Sindh in which 80 people were killed.
As a result, shops and services in the southern city remained closed for five days, causing huge economic losses.
The two suspects were arrested in a raid on Tuesday evening, Police Inspector General Salahuddin Babar Khattak said.
In a video-taped confession released to the media, the two suspects admitted to being members of the militant Sunni Muslim group Lashkar-e-Jhangvi.
They also confessed to 11 murders in Karachi since January 2010, including that of Mr Haider.
On the tape, the men said they had known that Mr Haider had come to Karachi's Nazimabad neighbourhood to attend a funeral.
"We followed him and his guard into the mosque and then opened fire on them," said one of the men.
The detainees showed no remorse and said they had targeted Mr Haider because he was a Shia.
The killings sparked widespread violence as ethnic Pashtuns and their businesses were targeted.
MQM leaders had initially blamed the ANP political party, dominated by Pashtuns, of being responsible for the assassination.
However, the party back-tracked after Prime Minister Yusuf Raza Gillani personally intervened after days of violence.
Both suspects have served time for terror offences and were released in 2008.