Gandhi says Commonwealth Games corrupt will be punished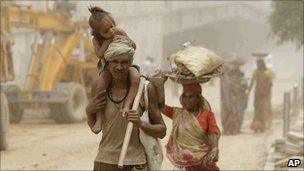 Sonia Gandhi, the head of India's governing Congress party, has warned those found guilty of corruption in the Commonwealth Games will be punished.
Mrs Gandhi said the Games were "a matter of national pride" and must be held successfully.
The showcase sporting event has been overshadowed by allegations of corruption and building delays.
Meanwhile, the Games chief Mike Fennell is in Delhi to inspect last-minute preparations.
"The prime minister [Manmohan Singh] is looking into the corruption charges against the Commonwealth Games scheduled in the city from 3 to 14 October this year," Mrs Gandhi told a meeting of the Congress Parliamentary Party in Delhi.
"The Commonwealth Games are not related to any political party or individual. It is a matter of national pride and efforts should be made to hold them successfully."
She added: "Let us not forget this even as we take steps to ensure accountability. I trust that as soon as the Games are over, the government will look into the allegations of malpractice and spare no-one found to be involved in them."
Earlier this month, two Games officials were suspended while a third resigned.
The Indian government has appointed a new group of ministers to oversee the preparations.
Commonwealth Games Federation chief Mike Fennell is inspecting venues; some of them are still under construction and many do not have the required safety certificates.
But Indian officials have said all the venues will be ready by this month.
Related Internet Links
The BBC is not responsible for the content of external sites.