Feuds and sickness simmer in camps
By Riaz Sohail
BBC Urdu, Sukkur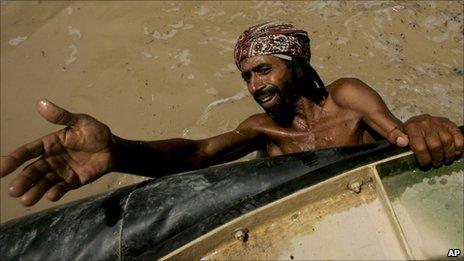 In Pakistan's southern city of Sukkur, displaced flood survivors are desperate for help and wondering how they will make it through this disaster.
Everywhere I stop my car, people rush forward and surround the vehicle, thinking I am an aid official who has come to distribute relief goods.
Their faces speak of hope, as they scramble and push past each other to reach the car.
In the relief camps now springing up across Sukkur in Sindh province, such scenes can be observed every hour.
Sukkur is located on the banks of the Indus, and it is one of the few urban areas near the river that have escaped widespread destruction.
So it is the first point of call for most of the people across the province who have lost their homes to floodwater.
The refugees can be seen taking shelter inside and around the city. They squat under bridges and trees.
Increasingly, the city is resembling one large relief camp.
A provincial government official estimates that 4 million people in Sindh have been affected by Pakistan's worst-ever flooding.
But only 300,000 of them are living in government relief camps.
"A lot of people are still sitting near the main highways or taking shelter near trees," says Jamil Soomro, advisor to the Sindh government.
"They do not want to go into camps because they still have some of their belongings, as well as their cattle, with them."
No official is present in any of the camps in Sukkur to listen to the refugees and help them to solve their problems.
Every tent has at least six to seven people living in it.
Inside the tents, the occupants sleep on the ground, which they have covered with a piece of cloth.
Outside are water tanks, and refugees can also get food.
But the demand is huge and supply is limited, with fights breaking out regularly.
Most people here are poor and have received hardly any education - and the flood has taken what little they had.
For many women, this is the first time they have left their villages.
Some people find it difficult that members of rival tribes have to share the same camps.
Upper Sindh is famous for its blood feuds, and old hatreds continue to outweigh new realities.
So far though, the authorities have been able to prevent any outbreak of violence.
The Indus valley in Sindh province stretches along 900 miles, with 85% of the land under cultivation.
Most of this land belongs to the tribal leaders, called sardars or waderas. Many of them are prominent national politicians.
The people taking refuge in the camps are their tenant farmers, some having been indentured for life.
They till the soil for maize, cotton, rice and wheat, the main crops in the region. Many also cultivate lemon trees.
But all crops and fruit trees have been destroyed or severely damaged by the floods.
Authorities say they fear this will result in a massive food shortage in the coming weeks.
As I travelled along the Indus highway, I have seen houses cut off from what can now only be called mainland.
They are surrounded by miles of water in each direction.
In some places the Indus has swelled to several times its size, resembling a giant inland sea with no land on the other side of the horizon.
Big landowners may be able to recoup their losses. But people like Nizam Nathio, who lost his 10 acres in the flood, ask themselves how they will survive.
"All my resources are gone and the next crop will be harvested in six months," he told me in a relief camp in Sukkur.
"Will my family eat mud till then to survive?"
But it is not just farm land that has been washed away.
Hakeem Kalhoro, a resident of the Naushero Feroz district, used to run a successful dairy farm with 50 buffaloes.
Now he has one animal left. The floodwater has swept away the rest.
"I used to sell 500 litres of milk a day, now I'm living on handouts," he says.
Government and private aid agencies say the situation could get worse as relief supplies are dwindling and other problems demand attention.
Health issues have rapidly gone to the top of the list.
Sindh government officials say that out of the 4 million displaced people, 1 million are suffering from some sort of flood-related illness.
"This situation is beyond our capacity, or the capacity of the federal government to handle alone,' government adviser Jameel Soomro says.
"We need international aid urgently."
"Without it every issue will give birth to another myriad set of problems."
Although officials in Sukkur are trying as best as they can to deal with the influx of refugees from across the province, the city's small size and limited resources mean many people will have to look for alternatives and move on.
Many are already making their way towards Karachi and Hyderabad, as thousands more take up residence in the already overcrowded camps.
Meanwhile, the danger is not yet over, as irrigation officials say that they expect more water to move south in the next few days.