US official denies 'threat' over loan and Bhopal leak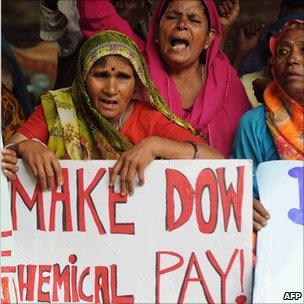 A senior US official has denied making any link between India's request for a loan from the World Bank and continuing anger over the Bhopal gas leak issue.
Deputy National Security Adviser Mike Froman was accused of making a veiled threat to Planning Commission Deputy Chairman Montek Singh Ahluwalia.
In an e-mail, Mr Froman warned of a "chilling" of investment ties.
Thousands of people died in 1984 after the leak from American firm Union Carbide's plant in the city of Bhopal.
In June, an Indian court finally convicted seven former managers at the plant, handing down minor fines and brief prison sentences.
But many victims and campaigners feel justice has still not been done against Union Carbide, which is now owned by Dow Chemicals.
Earlier this week, the Mumbai-based Times Now network obtained an e-mail exchange between Mr Froman and Mr Ahluwalia, initiated by India seeking US backing on a loan from the Washington-based World Bank.
Mr Froman, a key aide to President Barack Obama, is quoted as saying that the US "will look into it".
"While I've got you, we are hearing a lot of noise about the Dow Chemical issue. I trust that you are monitoring it carefully," Mr Froman was quoted as telling Mr Ahluwalia.
"I am not familiar with all the details, but I think we want to avoid developments which put a chilling effect on our investment relationship."
The e-mail exchange caused uproar in India, which President Obama is due to visit in November.
In a media release issued by the US embassy in Delhi on Thursday, Mr Froman said: "With regard to recent reports about my private correspondence with Mr Ahluwalia, I want to make clear that I was not making any link between what are two separate and distinct issues nor issuing a 'threat' of any sort.
"Any assertion to the contrary is absolutely wrong, both in intent and in fact," he said.
"I am dismayed to think that anything I wrote could be interpreted as minimising the toll of the Bhopal disaster. The human suffering as a result of Bhopal is a terrible tragedy."
Mr Froman said it was for the Indian people to resolve the Bhopal issue and that the US did not seek to interfere in this process.
Related Internet Links
The BBC is not responsible for the content of external sites.