Battle to survive in 'heart-wrenching' Pakistan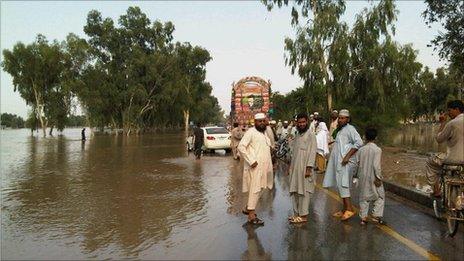 Three weeks ago, in north-west Pakistan, one bereaved man vented his inconsolable anger and grief by blocking one of the main roads.
The harshest monsoon season in Pakistan's history had just taken its first casualties.
Ferocious floods swept away his simple mud brick house with almost all of his most precious goods, including his daughter.
He could not find anyone from his government to help him.
We were travelling along that road, and waited more than an hour along with hundreds of vehicles while authorities tried to clear this main artery linking the north-west to the rest of the country.
No-one knew then that this was the start of what has turned into a living nightmare for millions of Pakistanis.
Like that one man, they have lost almost everything.
The UN General Assembly met in special session in New York this week in another effort to focus the world's attention on a crisis of terrible proportions and enormous consequences.
A few days before, when we travelled with UN Secretary General Ban Ki-moon across the flood ravaged plains of Punjab province, I asked for his reaction to what he had seen.
"Saddening. It's been a heart-wrenching day," Mr Ban reflected. "I've seen the tsunami, and Haiti, but this is much more than that."
It is hard to put this disaster into words, and just as hard to put it into numbers.
In this miserable monsoon maths, the numbers multiply by the day and never really add up.
The Pakistan government now says 20 million people are affected and one-fifth of the country is under water.
But three weeks on, floodwater continues to surge southward in the heavily bloated Indus River. It is still engulfing entire villages and inundating vast swathes of land in Punjab in the east, and Sindh in the south.
We met some poor cotton farmers in southern Sindh whose crops were under water. They called themselves lucky because their homes were still intact. But floodwaters still had not reached their peak there.
Desperate efforts to divert destructive torrents from major urban centres have sent them streaming into the neighbouring province of Balochistan.
"People in Balochistan, including me, want to know why the water was intentionally diverted," wrote one irate resident who sent me a message on Twitter.
There will be many days of reckoning once floodwaters recede. That may not be until September.
In the north, in searing heat, floodwaters are evaporating, revealing the full extent of destruction.
We travelled again along the main highways in the north-west, where long stretches of road had been submerged in water, causing days of disruption on these vital lifelines.
Now the roadsides have become narrow slivers of life. The displaced have taken refuge there under plastic sheeting and tattered squares of tarpaulin.
Villages and Afghan refugee camps which had been swallowed by water have now resurfaced.
Azakhel, on the banks of the Kabul and Swat rivers, was once home to 40,000 Afghan refugees.
Now it is a sprawling mound of bricks and straw strewn with remnants of people's lives. Only the mosque, built of concrete and painted white, with thin stripes of colour on its minarets, was left standing.
A metal sign saying "Welcome to our school" protrudes from a lingering pool of floodwater.
"Everything that belonged to me is gone," said 12-year-old Mohammad Nazir, who was picking through the mud and debris along with dozens of men who had returned to salvage whatever they could.
He listed his cherished possessions: "My school certificate, my school books, my uniform, my toys."
Across Pakistan, millions of people are in need of everything from food to shelter, medical care, and water to drink.
And a nation has lost its limbs: infrastructure is broken, cash and food crops have been destroyed.
On our return trip to the north-west, the two main roads were blocked again. This time it was angry residents protesting against a power cut that was in its third day.
"We keep calling the government and their line is busy, busy," shouted one protester, as black plumes of smoke rose from burning tyres.
It may be an omen of what's to come.
"It will not only be electricity," warned Shakeel Qadir Khan, who heads the Provincial Disaster Management Authority in Khyber Pakhtunkhwa.
"Once people start feeling the pinch of loss of assets, loss of crops, loss of land, loss of economic opportunity, we fear there may be social unrest."
In a country also doing battle with a brutal Taliban insurgency, much is at stake.
"I am worried," said Pakistan's Foreign Minister Shah Mahmoud Qureshi before he flew to New York for the UN meeting. "If we don't get the attention or help, I am worried that people who want to create mischief will get room to step in."
For now, for at least one-tenth of the population, if not more, it is a sheer battle just to live, a life of crushing hardship.
Related Internet Links
The BBC is not responsible for the content of external sites.