US help warms hearts of Pakistan community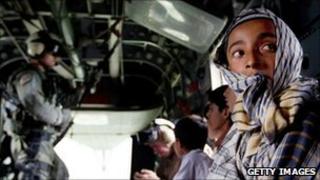 In the picturesque mountains of Pakistan's north-west, the US response to the devastating floods has helped to change the perceptions of a community towards the Americans.
About 70,000 people in Pakistan's Kalam valley were cut off after road links were swept away by flood waters three weeks ago.
Multi-story hotels that were perched on the river banks along the picturesque valley are no longer there. The people are without electricity and telephone lines.
People in the area had already suffered two years of militancy by the Taliban, who pushed an anti-US agenda until they were largely defeated last year.
But amid the despair, there are good things happening.
US forces have been the main providers of aid for the community.
Relief sorties
Habib Rasul, a 30-year-old taxi driver, says before floods they used to consider Americans as "enemies".
The local population are mostly Pashtun, and share ethnic and linguistic ties with many in the Taliban ranks.
But Mr Rasul says the US response to the flooding has changed their perception.
"Muslim countries did not give us any assistance, but they did, so they're good," he says.
Kalam is inaccessible by road. Depending on the weather, US helicopters are bringing in relief goods - mostly flour and medicines - in a number of sorties each day.
On their way back, the Black Hawks take the sick and the wounded out of the secluded valley.
Hundreds of flood victims sit around the helipad waiting for their turn for aid, or to be taken on board.
There are two Pakistani commandos on each helicopter and the Pakistani military is looking after security at the helipad - but there has been no trouble.
Local social worker Ehsanul Haq says the local population feel gratitude towards the Americans.
"In the past, we thought the Americans were supporting militants, that it was their game, but now I am sure 95% of people in Kalam believe they are friends," he says.
US help has come just as the local population were deciding not to wait for government help to start rebuilding bridges and clear roads.
Malik Ghazan Khan, head of local volunteers, told the BBC that they knew if they looked to the government it could take months or even years.
"We are doing it on the basis of self-help because who else can assist us at this moment, except God?" he says.
"The chief minister has told us they can't do it immediately. He said they had to go through processes and procedures, so it takes time.
"So we have decided to do it ourselves. I salute the brave people of Kalam, they have so far reconstructed six bridges. We have made 18km to 20km road useable now."
Kalam is a place for leisure-lovers and hikers. The small tourist resort had about 300 small and medium-sized hotels. The spread of militancy had badly affected the local economy.
In a bid to attract tourists and restore their confidence, the military held a festival in July.
But a few days later, floods wreaked havoc and more than 4,000 tourists had to be evacuated in helicopters.
The local hoteliers are realistic. They fear getting the tourists back now will take a lot of time.