Desperate scramble for aid at Pakistan camps
By Riaz Sohail
BBC Urdu, Sukkur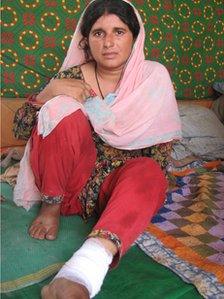 Eighteen-year-old Basheeran Khoso can only look on with forlorn eyes as lorries laden with relief supplies arrive at the gate of the camp.
Three days ago, her left foot was crushed under the wheels of a lorry as she scrambled to get access to the aid.
The camp is located near the main bypass around the city of Sukkur, in Sindh province - it was set up by the Pakistan air force and has 2,200 inhabitants.
They are largely from Jacobabad, Thal, Ghouspur and Karampur - towns that were washed away by the floods.
When I arrive outside the camp, I am mistaken for a health worker and quickly surrounded.
"Goods were being distributed from a truck and I was trying to get my share," Basheeran explains.
"During the melee, an army truck drove over my foot and I fell unconscious. The next thing I remember is waking up in Sukkur's main hospital."
Basheeran hails from the town of Ghouspur - the first of Sindh's main town to be hit by the flood.
She says she and her family were lucky to survive, but that they have lost all that they owned.
"We ran for our lives when the water came," she added. "My family walked on foot for a day until we reached Jacobabad. Government vehicles then brought us here.
"We had no food for three days - my younger brothers and sisters kept asking me as they were very hungry. I said I would get them food when we reached the town."
But now, she says, there is only one meal a day available in the camp.
"The children are hungry and we are desperately looking for more elsewhere."
That however, is not the only problem she faces.
"This is the only dress I have and it is filthy," she says pointing to her clothes.
"We have no soap or anything to clean ourselves. There are toilets in the camp - but there is no water in them."
While all this is a great cause for concern, her mother, Ajeeban, has other things on her mind.
"Basheeran was to be married next month, but all her dowry has been washed away in the waters," she says.
"Now my beautiful young daughter has been seriously injured as well.
"She was in great pain all night, tossing and turning with fever. The doctor gave her a few pills and put ointment on her wounds.
"But without proper food and water, what use is medicine?"
Their family is not the only one with a tale of woe in the camp - there is one around every corner.
Nine-year-old Inayatullah also hails from Ghouspur. He, too, was wounded during a scramble for aid.
"There was a lot of pushing and shoving going around - and I fell to the ground," he says.
"People clambered all over me, and then I remember a lot of blood around me. I was conscious when they brought me back to camp.
"I can't really say I would do anything different - if we don't snatch and grab, we don't get anything," he adds.
Inayatullah is quite stoic about his situation, which was tough even before the flood.
"My father passed away a while ago and since then my family used to get by selling milk from our two cows. They have now been washed away by the flood."
Ten-year-old Jundoo ripped open his feet after he ran over shards of glass while chasing after a truck distributing biscuits.
He says his feet still hurt, but that he will continue looking for more food.
"The people here are not disciplined, and most are uneducated," says Mohammad Aslam, a Air Force official helping to run the camp.
"We have tried to reason with them several times but they don't listen. They have no patience - everybody wants to get supplies before someone else gets their hands on them," he adds.
"We try and calm them down when the situation gets out of hand - but they start again within minutes."
The government says there 80,000 such refugees in camps around Sukkur, and their numbers are rising by the day.
Relief workers say some aid is getting through to the refugees but that much more is needed if it is to make a difference to people like Basheeran and Inayatullah.
If you would like to make a donation to help people affected by the floods in Pakistan, you can do so through the UK's Disasters Emergency Committee at www.dec.org.uk or by telephone on 0370 60 60 900.
Related Internet Links
The BBC is not responsible for the content of external sites.