Pakistan braces for economic impact of floods
By M Ilyas Khan
BBC News, Islamabad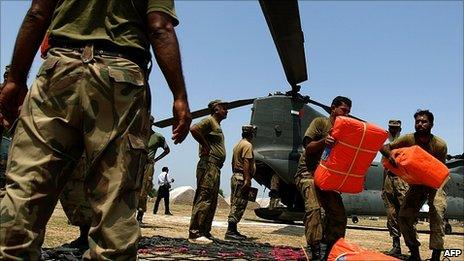 The floods in Pakistan continue to roll south towards the sea, leaving behind a trail of destruction, the magnitude of which is still not fully clear.
The government has asked the World Bank and the Asian Development Bank to carry out damage assessments which officials say will take a month.
Meanwhile, experts have tried to put together a rough picture of economic losses, and many warn there may be huge social costs as well.
But while the scale of the calamity is monumental, the response of the international community has been lukewarm.
This is causing concern, both in government circles and among civil society.
The most immediate pressure on the Pakistani government is to reprioritise proposed budgets to generate internal resources for flood relief.
Experts believe the government can raise about $1.5bn (£960m) from its own coffers to provide immediate assistance to flood-affected people.
This money, they say, would be diverted from funds earmarked for poverty alleviation programmes and the rehabilitation of people displaced by militant conflict in the north-west.
"The same people for whom these allocations were made have now been affected by the floods, so a diversion would be justified," argues Dr Ashfaq Hasan Khan, a former financial adviser to the government.
He says the government can raise another $800m or more through the flood-relief surcharge which it plans to levy on income and imports.
About $525m which has been pledged by the international community so far can then go into reducing the budgetary gap, he says.
But the problem is, while expenses need to be paid immediately, resources would be generated over the full course of the fiscal year which ends in May 2011.
And there is no guarantee that the government would be able to raise the entire projected revenue for the year after the flood disaster.
"The devastation caused by the floods is going to hit revenue collection and increase expenditure," says Dr Kaiser Bengali, economist and adviser to the government of Sindh province.
"This will widen the overall budgetary deficit for the current year."
In June, the government announced a $33bn budget for the 2010-11 fiscal year with a projected resource gap of $8bn which it proposed to bridge through foreign loans and borrowing from banks.
This gap could now widen by a further $2bn if internal resources are diverted to immediate flood relief, experts say.
Even then, there will not be enough money for rehabilitation and reconstruction, given the scale of the disaster.
Prime Minister Yousuf Raza Gilani says about 20 million people have been affected directly or indirectly by the floods.
Pakistan's National Disaster Management Authority estimates that nearly one million houses have either been washed away or seriously damaged.
Maurizio Giuliano, a spokesman for the United Nations Office for Humanitarian Assistance (OCHA), says about four million are without shelter.
The damage to infrastructure is no less than the scale of human catastrophe.
Hundreds of kilometres of roads and jeep tracks and dozens of bridges have been destroyed in northern parts of Khyber Pakhtunkhwa (KP) province.
The province has also lost a major irrigation dam, and another dam has been damaged.
KP's Provincial Disaster Management Authority (PDMA) says the province would need $2bn for immediate relief and the restoration of essential infrastructure.
Meanwhile, a report of the government of Punjab province says it will need $ 1.3bn for immediate relief and short-term rehabilitation of roads, dykes, the electricity network and the irrigation system.
In addition, the government is faced with the task of restoring the livelihood of affected people.
Officials say that about 6.5 million acres of crops have been washed away in Punjab and Sindh provinces.
This apparently means "economic displacement" for the affected households for at least one crop season, and has implications for national economy as well.
"Damage to crops and livestock will certainly worsen food inflation in coming months, and hit the textile and sugar industries, which in turn may hit trade balance and overall national growth," says Kaisar Bengali.
If the government does not move quickly to restore infrastructure and rehabilitate the people, there is also a danger that the human displacement may evolve into a permanent demographic shift.
Hundreds of thousands of displaced people have moved to urban centres in Punjab and Sindh.
Most of them are daily wage workers with few or no assets in their native villages to go back to.
If they stay, they will overburden already crowded cities, and aggravate the situation especially in Sindh province where urban centres are prone to ethnic violence.
If you would like to make a donation to help people affected by the floods in Pakistan, you can do so through the UK's Disasters Emergency Committee at www.dec.org.uk or by telephone on 0370 60 60 900.
Related Internet Links
The BBC is not responsible for the content of external sites.