Japan and India in nuclear co-operation talks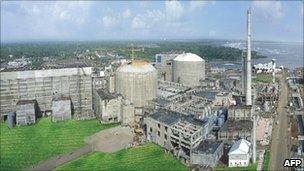 The Indian and Japanese foreign ministers have held talks on a civil nuclear co-operation agreement.
The Japanese minister, Katsuya Okada, said the decision to start negotiations had been one of the toughest he had ever had to make.
Speaking at a news conference in Delhi, he said that if India conducted nuclear tests Japan would suspend cooperation.
Japan has been hesitant to sign a deal because India is not a signatory to the Nuclear Non-Proliferation Treaty.
Mr Okada was holding talks with his counterpart, S M Krishna, during the two-day state visit, an Indian foreign ministry statement said.
His visit came a day after India's cabinet approved a delayed draft law that will pave the way for foreign companies to build reactors in India, where the atomic energy market is reported to be worth $150 billion.
A second round of talks on a civil nuclear pact between the two countries is expected to be signed next month.
India carried out its first atomic test in 1974, and refused to sign non-proliferation agreements. However, it began to emerge from nuclear isolation in 2008 when it signed a civil nuclear co-operation agreement with the United States.
Japan is the sixth-largest foreign investor in India, and trade between the countries worth more than $12 billion last year, according to India's foreign ministry.