Chaos as crowds flee Pakistan flood town
By Jill McGivering
BBC News, Shahdadkot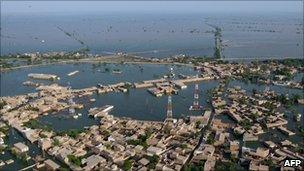 Tens of thousands of people are fleeing their homes in Sindh Province as the floodwaters engulf yet more villages and towns.
The water is already finding weak points in the embankment which protects Shahdadkot, a city of about half a million inhabitants in this southern region.
The floodwater has been closing in on Shahdadkot for days.
On Sunday, it engulfed dozens of villages. About a hundred people were marooned, stranded on rooftops in the fast-rising tide.
Small fishing boats, brought to this part of Sindh to help with the crisis, ploughed back and forth rescuing survivors in groups of 10 or 12. They clambered out onto dry land, looking dazed and clutching bundles of possessions.
Local men stood along the top of the embankment and watched, marvelling at the vast sea of water which stretched as far as the eye could see, broken only by rooftops and treetops.
Outlines were just visible. Eddies marked the edges of a road. The air was filled with the sound of rushing water.
The road to Shahdadkot was crowded and chaotic. It was shielded on one side by a mud embankment, about a metre high, which was being hastily bolstered by diggers and earth-movers even as the waters lapped at the other side.
A steady procession of people was fleeing the area - on bicycles, motorbikes, donkeys carts and trucks. Some walked, herding their animals in front of them. Some perched on top of piles of furniture, television sets and mattresses. Others shared their carts with their cattle and goats.
One man, travelling with a family of 16 people including grandparents and small children, said the water had reached their village the previous day. By morning, it had risen to six feet, he said, and they'd struggled to leave, bringing what they could of waterlogged possessions.
Now they were heading to a relative's house in another part of Sindh to ask for shelter.
A local landlord pointed out over fields and villages, now submerged by swirling brown water. He had evacuated the villagers, he said, but 50 local men had been left behind to act as guards and protect the villages from looters.
Now they were missing, either drowned or perched on rooftops in the scorching sun, waiting to be rescued.
Towards the end of the day, I drove through the city. It was almost entirely deserted. The bazaar, usually bustling, was silent and empty. Streets of shops were shuttered and padlocked.
One man sat by his shop front and watched a labourer build a brick wall across its entrance. I stopped to ask him why. It's to stop the water, he explained. All my belongings are piled inside and I'm hoping the wall will protect them.
As darkness fell, I started the drive back to Sukkur. An army team was frantically working in the road, unloading a truck of boulders and trying to strengthen a weak point in the embankment.
On the other side of the mud wall, the rising water was now only a foot or two from the top and already, in several places, water was streaming through, heading for the city of Shahdadkot.
Related Internet Links
The BBC is not responsible for the content of external sites.