Can 'the Petraeus factor' succeed in Afghanistan?
By Nick Childs,
BBC defence and security correspondent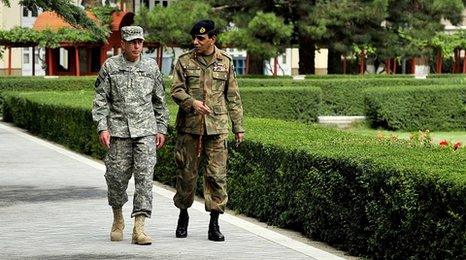 "The Petraeus factor" will be a significant element of the debate that is unfolding over the Afghanistan mission.
Gen Petraeus is one of those remarkable men: when you talk to him, he can tell you bad news, that things are very serious, and yet you come away reassured, that somehow he "gets it", and has an answer.
He will play a critical role in how the Afghanistan mission is judged in the coming critical months, and in selling whatever decisions are reached about the success or otherwise of the current strategy.
David Petraeus is the closest the US has to a celebrity general at the moment.
Slight, almost stooped, he is also charming, politically-savvy, and has the reputation of a scholar-general who understands the kinds of wars America has been fighting lately like few others.
That includes engaging on the now-critical political and public relations fronts as well.
He has built and cultivated a formidable network of political allies.
That made him an ideal ready-made replacement when President Obama fired his predecessor, Gen Stanley McChrystal.
In many ways Gen McChrystal was from the same school of thought on strategy as Gen Petraeus, but lacked the smooth diplomatic and political skills and antennae - as became clear with his downfall.
But, behind the smile he often deploys in public, Gen Petraeus is very calculating.
He is also fiercely ambitious and competitive, and fiercely protective of his reputation - or at least his record.
Gen Petraeus became President Bush's almost indispensable support when he took over in Iraq, and was credited with turning round the military campaign there, or at least people's perceptions of it.
His voice seemed to be muted somewhat when Barack Obama took over, in part because the new president had a rather different relationship with his military chiefs as a whole.
But the general may become that indispensable support for President Obama too.
But there is a danger lurking as well.
Gen Petraeus could also become a formidable advocate for stretching out the timetable for the mission in a way the politicians in Washington and many other Nato capitals may not like.
He's certainly said before that counter-insurgency operations need time.
And one of his favourite phrases about Afghanistan is that, like Iraq, it is all hard, and it's hard all the time.
Related Internet Links
The BBC is not responsible for the content of external sites.