Heavy rain causes floods in India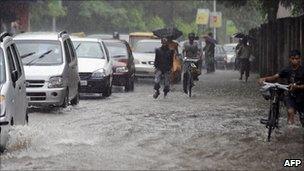 Several regions in north and west India have been put on flood alert as heavy monsoon rains continue to fall.
Landslides have blocked many roads and have devastated crops. In the northern state of Uttarakhand at least 70 people have died in the past week.
Several rivers, including the Yamuna which runs through the capital Delhi, have reached dangerous levels.
The authorities say rainfall so far in some areas in August has surpassed a 10-year record.
Rain lashed the Indian capital for a fifth day on Monday, causing massive water-logging and huge traffic snarl-ups.
Water in the Yamuna river has remained above danger level, and is expected to increase after the neighbouring state of Haryana released more water into it.
Officials said some families living close to the river bank had been evacuated to camps in safer areas.
In Delhi the stagnant water has contributed to the spread of dengue fever, which is transmitted by mosquitoes.
Heavy rains and floods have also been reported in the northern states of Punjab and Haryana.
Reports also said some flights were delayed due to bad weather conditions.
Heavy rains for the past week have also led to major disruption to life in the mountain areas of Uttarakhand.
In Uttar Pradesh, major rivers continued to swell owing to heavy rains.