Pakistan flood: Saving baby Samina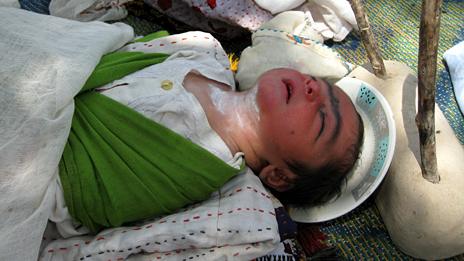 Allah Rakhi was sitting quietly on a rush mat under a tree, getting what shade she could from the blistering sun in the Pakistani city of Sukkur.
She was surrounded by noise and pressing people and just a few feet from passing traffic. She was a young woman and gazed at me distantly as we spoke - as if she was not quite sure where she was.
Her village was 60km (37 miles) away, she said, but when the floodwater came, she had to leave.
She walked all the way to Sukkur and five days ago, soon after arriving, she gave birth to a daughter on the roadside, without any help from a doctor or midwife.
Now her daughter was lying in front of her, a tiny motionless scrap of baby with her eyes closed.
Her head was the size of my palm, resting in an old saucer which was balanced on a flat stone.
She was motionless and looked extremely frail. It was hard to be sure she was even breathing. Flies clustered round the baby's face.
Ms Rakhi said the birth had been "very painful".
"I'm still having a lot of pain but there's nothing I can do," she said.
Her daughter seemed so unwell. "She isn't managing to breastfeed," she explained.
"The only food available is rice and how can I feed her that? I don't know where to find a doctor. I haven't been able to get help."
The baby really worried me. I was concerned that if she didn't have medical help quickly, she might not survive.
A few minutes' walk away, I found a small medical camp and a young doctor there, Dr Fahim. I told him about the five-day-old baby, motionless on the roadside a little way away. Could he treat her?
He was clearly overwhelmed by the patients crowded around him.
"There are so many patients," he said. "We can't reach each and every one. Our aim is to treat the bulk of the patients. It is so difficult to treat them all."
I asked him if he would examine the baby, if he could manage to find the time. If he didn't, I explained, I really thought she might die. He promised to try.
The next day, I went back to find Ms Rakhi.
I barely recognised her child. "I've decided to call her Samina," the young mother said.
"A doctor came to see her last night and gave her some treatment. Now she's started to take breast milk."
The change was remarkable. The previous day, Samina had been still and listless.
Now she was trying to move her head, opening her eyes and looking around her.
She was still weak but her chances suddenly seemed so much better than they had been before.
This was just one case. Samina and her mother are surrounded by tens of thousands of other displaced people, many of them in just as much need but their plight may not be highlighted.
Even so, when I think of baby Samina and her second chance, I feel absurdly elated.
If you would like to make a donation to help people affected by the floods in Pakistan, you can do so through the UK's Disasters Emergency Committee at www.dec.org.uk or by telephone on 0370 60 60 900.
Related Internet Links
The BBC is not responsible for the content of external sites.