India parliament passes civil nuclear power bill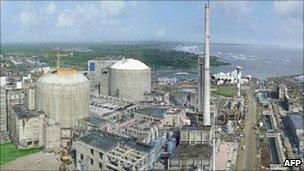 India's lower house of parliament has approved a law that opens its nuclear power market to private investment.
It enables foreign firms to build reactors to supply India's enormous atomic energy market, worth an estimated $150bn (£97bn).
MPs approved the bill only after the government agreed to triple the amount of compensation for accidents.
The bill is part of a landmark deal with the US in 2008 which granted India access to foreign nuclear technology.
For more than three decades the country had been barred from trade in civilian atomic technology because of its weapons programme and refusal to sign the nuclear Non-Proliferation Treaty (NPT).
The Civil Liability for Nuclear Damage Bill now goes before the upper house, where it is expected to pass without a problem.
Some private firms, especially in the US, have been reluctant to set up nuclear power plants in India without a law that would limit their liability.
Parliamentarians agreed to set the compensation cap in the event of a nuclear accident at $320m.
The BBC's Mark Dummet in Delhi says the bill has been criticised by left-wing parties who complained that companies should pay much more in compensation.
They also said that foreign firms should not be involved in such an important industry.
Prime Minister Manmohan Singh told MPs during the debate that nuclear power was the best and most cost-effective way for the country to meet its energy needs.
"Nuclear power is an option which we should simply not ignore," he said.
India urgently needs a huge increase in power production, as hundreds of millions of its people are not even connected to the national grid.
Nuclear energy contributes only 3% to the country's power supply, but the new law is expected to lead to a substantial increase on that figure in the coming decades.
Related Internet Links
The BBC is not responsible for the content of external sites.