Outcry over Afghanistan's election poster 'menace'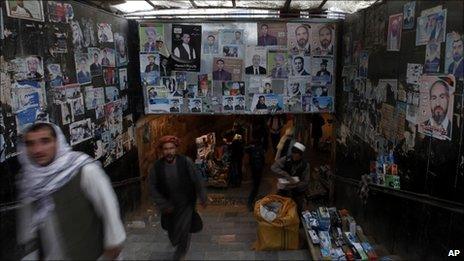 As campaigning enters the decisive phase in Afghanistan's parliamentary elections next month, the country's Election Commission is struggling to deal with a new kind of problem - illegal posters. Bilal Sarwary reports from Kabul on what residents are calling an election nuisance.
In Kabul, public structures, buildings, walls, road signs have all been taken over by campaign posters.
Even the pavements have not been spared. Every inch of the available space, public or private, has been covered with pictures or messages from candidates, contributing to the city's unkempt look.
''Like thieves, [supporters of candidates] arrive at night," Abdul Raees, a shopkeeper and Kabul resident, said.
"I had my house and shop painted recently, it cost me a tidy sum. But now, my walls have been disfigured. Is this democracy?"
Sticking posters on public property is illegal under the country's election laws. Posters are only allowed on private property with the owner's consent.
But, it seems, the law is hardly a deterrent for violators.
"I was very upset when posters first appeared on the walls of my house," said shopkeeper Noar Mohammad.
"I took it upon myself to clean the mess. Every morning I would tear down the posters. But they reappeared the next day. I have now given up. I am afraid that if I step out of my house, someone will stick a poster on my face."
After several representations from traders and residents, Afghanistan's independent Election Commission has stepped in.
"We have imposed fines on 155 candidates across the country so far," Zia Rifat, a spokesman for the Election Complaint Commission (ECC), told the BBC.
"Each of these candidates have been asked to pay 8,000 Afghanis (about $173). They have been given 10 days to clean up the property."
He said 80 of those candidates were contesting seats in Kabul province. In all, 662 candidates are competing for the province's 33 seats in the lower house of parliament.
"We are sorry for causing any inconvenience to the public," one of those candidates fined told the BBC on condition of anonymity.
"Democracy is new for us. We will become more mature in the years to come," another candidate said.
There have been similar problems in the western province of Herat, but with a slight twist. Most complaints have been lodged by the women candidates.
"Several women candidates have approached us. They say their posters have been torn, sprayed with black paint or burnt," said Sayed Haqiqi, ECC spokesman in Herat.
"Campaign material, including posters, of women candidates have been targeted even when they had secured the permission of the property owner for campaign," Mr Haqiqi said.
"Religiously prejudiced groups are behind this mischief. We have asked the police and other security forces to arrest these people, but so far not one arrest has taken place."
Safora Yousifi, who is 29, is contesting one of the five seats reserved for women in Herat.
Ms Yousifi said she and other women candidates were finding it difficult to campaign because of a lack of security.
"We are shouted down, our posters are burned. Our supporters are intimidated and threatened," she said.
"There cannot be a free and fair election if the hardliners continue with their blackmail tactics."
More than 2,500 candidates are competing for 249 seats in the Wolesi Jirga, Afghanistan's lower house of parliament, on September 18.
Related Internet Links
The BBC is not responsible for the content of external sites.