Taliban kill eight Afghan policemen in Kunduz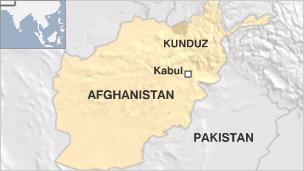 Taliban militants have killed eight Afghan police officers in the northern province of Kunduz, police have said.
More than 10 insurgents raided a checkpoint outside Kunduz city just before dawn, a police officer said.
The militants wanted to steal the officer's weapons but were beaten back before they could do so, he said. One policeman was wounded and one escaped.
Kunduz is a stronghold for Taliban and al-Qaeda militants where the central government has little control.
The Taliban and other insurgent groups began systematically taking over Kunduz in early 2009.
They are now increasingly using it as a base to launch attacks elsewhere in the region.
Earlier this month, a Taliban suicide bomber killed six policemen in Kunduz.
The Taliban also publicly stoned to death a couple accused of an illicit affair.