UN reviews security after Pakistani Taliban 'threat'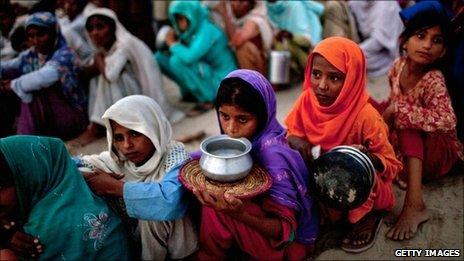 The UN is reviewing security measures for its aid workers in Pakistan, after a warning of new threats from the Pakistani Taliban.
A US official said militants planned to attack foreigners delivering aid to the millions of people affected by the devastating floods in the country.
One Taliban spokesman told Associated Press that the presence of foreign aid workers was "unacceptable".
However, there have been no attacks since the humanitarian crisis unfolded.
The UN says more than 17 million people have been affected by the floods, and about 1.2 million homes have been destroyed, leaving five million people homeless.
As floods sweep down from the north, water has been breaching embankments and threatening residents.
One breach occurred in the Kot Almo area in Sindh province, forcing thousands of people in the southern Thatta district to flee from their homes.
Further downstream, about 400,000 people have been told to evacuate the towns of Sujawal, Mir Pur Batoro and Daro.
"Evacuation in those areas is ongoing but we have issued another warning for the remaining people to leave as well," Saleh Farooqi, director general of the National Disaster Management Agency's Sindh office, told the Reuters news agency.
And the BBC's Chris Morris reports from Shahdadkot, further north in Sindh, that as a breach there widened, a series of fields rapidly filled up, taking on the appearance of an inland sea.
"Shahdadkot is certainly in danger," said Sindh's relief commissioner, Riaz Ahmed. "People have been asked to evacuate, but it's a very big town."
On Wednesday, a US official, speaking on condition of anonymity, told the BBC that the militant group Tehrik-e Taliban Pakistan planned to "conduct attacks against foreigners participating in the ongoing flood relief operations in Pakistan".
The official said the US government also believed "federal and provincial ministers" might be at risk, but gave no further details of the source of the information.
A World Health Organisation spokesman said its work in Khyber-Pakhtunkhwa and Baluchistan was already being affected by security concerns.
The UN's emergency relief co-ordinator, John Holmes, said on Thursday that its security experts would be working with other international organisations "to assess what the risks are and to minimise them".
"We will obviously take these threats seriously as we did before, and take appropriate precautions, but we will not be deterred from doing what we believe we need to do which is help the people of Pakistan... who have been affected by the flood," he told a news conference in New York.
Mr Holmes noted that Tehrik-e Taliban had carried out a suicide attack on the office of the World Food Program in Islamabad last October, killing five staff.
His comments came after a Tehrik-e Taliban spokesman, Azam Tariq, said it believed the US and other countries were not focused solely on providing aid to flood victims, and had other unspecified "intentions".
"No relief is reaching the affected people, and when the victims are not receiving help this horde of foreigners is not acceptable to us at all," he told AP. "When we say something is unacceptable to us one can draw his own conclusion."
A retired Pakistani general, Talat Masood, said that the militant group would seek to counter any gains in public support for Western governments helping with relief and aid work.
The US is one of a number of countries to have sent aid and assistance to Pakistan. The US Agency for International Development (USAid) says that it has so far provided about $150m (£97m) in support to victims of the flood.
Mr Holmes said UN agencies had provided almost 2 million Pakistanis with emergency food supplies and 2.5 million with clean drinking water.
Medical treatment had been provided to about 3 million people, and more than 115,000 tents and 77,000 tarpaulins had been distributed, he added.
About $325m of the $459m sought by the UN in a Flash Appeal had been either contributed of pledged by foreign donors, while an additional $600m has been provided or promised outside the appeal, Mr Holmes said.
"We're approaching $1 billion with funds offered or already contributed inside and outside the appeal for this crisis," he told reporters. "That's a reasonable response, but we certainly need more."
In the southern province of Sindh, people displaced by the flooding have gathered at one of the main railway stations in Karachi.
"We have fled from the floods," one woman said.
"We have nothing left. We have been here for three or four days, and we are hungry. Nobody is even looking at us. We have had no food the whole day. We are dying of hunger. I have six children."
Another of those waiting at the station, Abdul Ghani Odano, said people were relying on charity to survive.
"This has been going on for eight days," he said. "Some have started begging for food. They lie around here day and night. Sometimes some generous people come and help but no government official has come so far."
The UN has appealed for more helicopters to reach the 800,000 people accessible only by air.
If you would like to make a donation to help people affected by the floods in Pakistan, you can find information about how to do so by clicking here.
Related Internet Links
The BBC is not responsible for the content of external sites.