The decline of Mumbai's single screen cinemas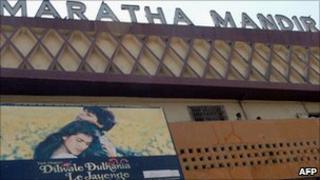 Many years back, Niranjan Patwardhan zipped through crowded by-lanes and railway tracks in the southern Indian city of Mumbai (Bombay) to make it in time for a new film.
On the way, he broke his arm, but instead of going to a doctor, he still went to the movie.
Mr Patwardhan is part of that cinema-crazy crowd who did whatever it took to catch a new Bollywood release in the cinema.
In those pre-internet download days, there were no DVD players and television with one state-run channel offered little choice.
Going to a cinema then was the only real entertainment for many in the city of Mumbai.
And cinemas in those days were large single screens with a seating capacity of 600 to 1,000.
But in the past decade, with mushrooming multiplexes, the large single-screen cinemas have fallen on hard times.
Multiplexes not only have four to five screens where several movies are shown simultaneously, but they also have restaurants, bars and shopping arcades - an expensive but attractive option for movie lovers.
'No charm'
Approximately 80 single screen cinemas still exist in the city - but many are barely functional.
About 20 have closed over the past five years, but many more went into oblivion before that.
"Watching a movie on the first weekend was the norm. It was an event, waiting for the film, buying tickets and watching the film - everything. That charm does not exist any more," Mr Patwardhan says.
A single screen typically has three types of seating - stalls, balcony and exclusive "dress circle" or "box". Stalls were the cheapest and most popular with the masses.
The halls used to be decorated with chandeliers, mirrors, paintings and carpeted staircases.
Maratha Mandir, a 1,000-seat theatre, once hosted some of the grandest of film premieres.
"There was a tremendous curiosity about stars then. For the premiere of the blockbuster Mughal-e-Azam the print was delivered on an elephant and the entire star cast was present," says Maratha Mandir managing director, Manoj Desai.
"The crowd went crazy and loud cheers filled the atmosphere. But such premieres do not happen now."
Most premieres now take place in multiplexes.
They are attended by the stars and media but one rarely sees the general public.
'No longer a big deal'
"People used to queue up from 5am for tickets," says Qasim Baig, who runs the projector at Chandan Cinema.
"Theatres were decorated with garlands and lights for new releases.
"Nicely dressed women used to come in groups for the afternoon shows. It was like a carnival. Now people just walk into the theatre wearing shorts. Watching movies is no longer a big deal."
Movie buffs used to watch a film's "first day-first showing" and then return many times if they liked it.
They not only provided footfall on weekdays but also created a unique atmosphere, says PP Muralidharan, manager of Eros cinema.
"The audiences would clap, dance and throw coins at the screen during songs. It was a great experience."
Sameer Joshi, owner of Chandan Cinema, says the slide began in the 1980s.
"The video cassette player and the colour TV hit us badly, forcing many to shut down."
The owners of Chandan, however, renovated the hall and managed to buy some time.
But now with stiff competition from multiplexes, single-screen cinemas are left with loyal patrons and people looking for cheap tickets.
Owners say they cannot increase the ticket prices as their clientele is middle and lower middle class, but to keep them coming, they have to match the facilities.
'Difficult'
Niloufer Dubash Dastur of Paradise cinema says she renovated her 840-seat cinema, putting in more comfortable seats and reducing the numbers to 502.
She says watching "500 people in raptures in a film is something that brings tears to my eyes".
But, she says, it is getting increasingly difficult to keep the show going and unless the government and the film industry step in, single screens may not be viable for long.
Mumbai, home to India's thriving Hindi-language industry Bollywood, has some bus stops still named after cinema halls which do not exist anymore.
Film-maker Sudhir Mishra says the single-screen cinema has to reinvent itself to appeal to the younger audience.
"They have to create cultural spaces and not just a movie screening hall. The value of old cinema experience is only for nostalgia. Today the audience has changed and films that are being made have changed."
A single screen hall sells tickets at around 150 rupees (£2; $3.21) while a multiplex charges double that.
Yet the modern cinema halls do better business as seating capacity is limited and affluent youngsters prefer them over older theatres with mediocre facilities.
Salim Khan, one of the writers of blockbuster Sholay, says: "Everything changes. There have been technological changes, changes in the way people perceive entertainment.
"People are busy and with more options like multiplexes, the number of shows and home entertainment, it is bound to have an effect. We have to change with the times."