Red Cross increases Pakistan floods appeal by $76m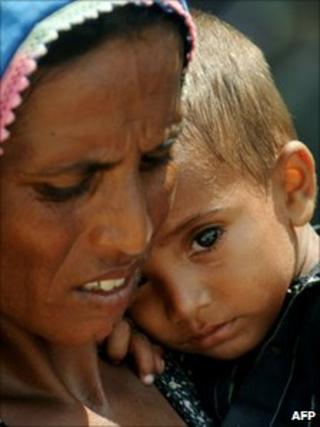 The international Red Cross has appealed for an extra $76m (£49m) for Pakistan, warning that only a fraction of needs are being met.
The head of ICRC in South Asia, Jacques de Maio, said the recent floods in Pakistan had created a catastrophe of staggering proportions.
The ICRC is providing aid to 350,000 people, but more than 1.4m people in the worst-affected regions need help.
The organisation is also facing growing resentment from a desperate population.
Speaking in Geneva, Mr de Maio said the ICRC hoped to expand its operations, but that security was posing a problem, with two of aid convoys being looted in the last week.
"When you organise an assistance for 30,000 people and you get into an area where you find an additional 100,000 people with the very same needs... then you can imagine that the frustration, the despair can lead to a collapse of the normal smooth operation," he said.
'Unrest'
Over the last week the organisation has had to abandon food distribution twice due to unrest, losing 60 tonnes of supplies to angry crowds.
Aid workers fear that this means that the most vulnerable - children and mothers - will not receive anything.
Mr de Maio said he was worried that, if this trend continued, it would put further pressure on the organisation's ability to help people.
"The choice is the usual dilemma. Are we ready to have our friends from the Pakistani Red Crescent, and our own staff, being killed or looted?" he said.
The ICRC has also warned of what it calls a lethal spike in water-borne diseases, if clean water is not delivered more quickly.
More than 1,600 people have died in the floods, which have affected about 17 million people.