UK think tank urges Afghanistan rethink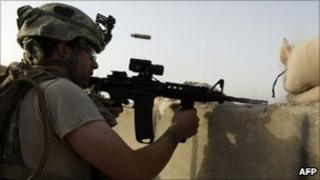 One of Britain's most prestigious think tanks has called for fundamental change to Western policy in Afghanistan.
The International Institute for Strategic Studies (IISS) is urging a total rethink, advocating the pull-out or redeployment of many troops.
It has also called for a fundamental shift from the expansive nation-building approach currently being pursued by Nato.
It says that there should be a more clearly defined strategy.
Looser government
This would revolve around containment and deterrence.
Launching the IISS's annual survey of world affairs, director-general John Chipman noted that public tolerance in the troop-contributing countries for a long-term deployment in Afghanistan was waning.
He recalled the original strategic goal as being to disrupt, dismantle and destroy al-Qaeda there.
This had largely been achieved, but since then the war aims had ballooned into a comprehensive strategy to develop and modernise the country and its government, he said.
The IISS clearly questions whether these expansive goals are attainable.
This would not be the end of international involvement, but many Nato troops could be withdrawn and those that remained could be concentrated in the north of the country.
The idea would be to allow the Taliban to run their own areas with military intervention required only if al-Qaeda returned.
The IISS recommends a looser federal government for Afghanistan.
It is among Britain's leading policy think tanks and its recommendations carry weight.
In short its view is that Afghanistan is soaking up a disproportionate effort in diplomatic time and military muscle that might be better deployed against emerging challenges elsewhere.