Pakistan drone strike 'kills 10'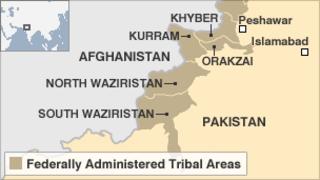 At least 10 people have died in a US missile strike targeting militants in Pakistan's tribal district on the Afghan border, security officials say.
The raid took place in Dande Darpakhel village, 5km (3 miles) north-west of Miranshah, the main town in North Waziristan.
Officials said all the dead were with the Haqqani network, a branch of the Afghan Taliban operating in Pakistan.
It is the fourth suspected US drone attack in the region this month.
Witnesses told the BBC three aircraft were involved in the raid and that four foreigners were among the dead.
Militants attack schools
One of the unmanned planes fired two missiles at the compound, they said.
Last Friday, eight people died in two drone strikes in this tribal region.
Meanwhile, militants have launched night-time attacks on a number of schools in the north-west over recent days.
A girls' primary school was blown up in the tourist resort of Kalam in Swat district, in the second attack on a school building in the area this week. No-one was inside the buildings at the time.
A spokesman for the Swat Taliban, Hasan Airabi, said they bombed the school in response to alleged military raids on mosques in the region. He also criticised the media for not covering the militants' point of view adequately.
Two schools in the villages of Mir Akbar and Jand Kali in the Bara district of Khyber tribal region were also blown up on Monday night.