Indian cabinet approves caste-based census for 2011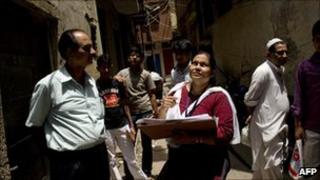 India's first caste-based census since 1931 will take place next year, the cabinet has announced.
It said the controversial count would last from June-September 2011, after a full census had been held. Answering questions on caste will be optional.
The move is intended to help target affirmative action benefits.
Discrimination relating to caste in Hinduism - the complex social hierarchy originally based on people's occupations - is banned in India but still goes on.
Critics of the caste survey say it is open to fraud.
Campaigners say the caste system is a highly regressive feature of Indian society and that it reinforces hierarchy and breeds inequity.
Separate survey
The cabinet's decision is the final ratification needed after a group of ministers gave the go-ahead for the caste census last month.
"A separate house-to-house enumeration of caste will be done during the period June 2011 to September 2011," Home Minister P Chidambaram told reporters in Delhi.
"This satisfies all the various requirements that have been projected and discussed and debated extensively."
Mr Chidambaram did not say how much the separate caste survey would cost. The Press Trust of India put the price tag at $650-$850m.
The BBC's Sanjoy Majumder in Delhi says that the move is aimed at improving affirmative action among the country's most socially disadvantaged groups.
Our correspondent says that independent India has always tried to present a unified face for its diverse ethnic, religious and social groups and outlaws discrimination on the basis of caste.
But the caste system still pervades many facets of Indian life, especially marriage.
The only time caste has been included in India's census was in 1931 when the country was ruled by Britain.
India's main population census was launched in April.
Some 2.5 million census officials will spend a year classifying India's population of around 1.2 billion people according to gender, religion, occupation and education.
It will include photographs and fingerprints of everyone aged over 15 to create a biometric national database to enable the government to issue national identity cards.
Full results are due in mid-2011.