Manipur policemen face arrest for killing unarmed man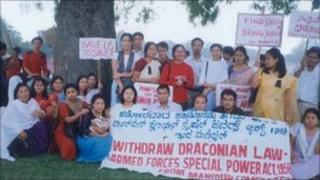 A court in India's north-eastern state of Manipur has issued arrest warrants for nine policemen charged with killing an unarmed man.
The men are accused of murdering Sanjit Meitei in "cold blood" in Imphal in July 2009. A pregnant woman also died.
Manipur police said Mr Meitei opened fire before police shot back in self-defence. Four other people were injured in the shooting.
Video footage and photos later emerged, pointing to an unprovoked killing.
The images showed police taking Mr Meitei, also known as Chungkham Sanjit, into a shop near the state legislative assembly and then dragging his lifeless body out.
The killing led to days of protests in Manipur, prompting the government to order a judicial inquiry. The investigation was later transferred to India's federal police, the Central Bureau of Investigation (CBI).
'Pistol planted'
The CBI says it has more than 250 witnesses to the incident.
Among the accused are eight Manipur police commandos and the officer in charge of a city police station.
Initially, the police said the commandos had been shot at by an unidentified youth and that they had fired at him only when they were fired upon themselves.
But the CBI says Mr Meitei was taken inside a pharmacy after being detained and was shot there. A pistol was planted on him to make it look like an "encounter", the CBI says.
Major protests erupted in the state capital, Imphal, after images of the incident emerged.
Human rights groups say extra-judicial killings are fairly common in Manipur.
Local groups have been demanding the repeal of the Armed Forces Special Powers' Act that gives sweeping powers to security forces during counter-insurgency operations.
Apunba Lup, a group of Manipuri student and youth organisations, said Chungkham Sanjit was a militant who had surrendered, and was killed without provocation.