Accidental boy stowaway returns home four months later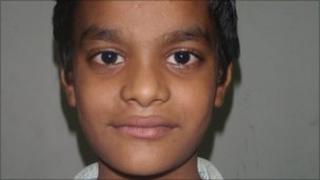 A nine-year-old Indian boy who mistakenly ended up on a cross-country train adventure has been reunited with his family - four months later.
Mohammed Fazlu was playing in Bangalore city when he boarded a train that left before he could get off.
He ended up in Tamil Nadu state, where officials who did not speak his language thought he was from Mumbai.
The missing youngster was finally identified when his family saw him on TV in an appeal about his case.
Authorities in Tamil Nadu put the accidental stowaway in care on 30 April after he ended up in the district of Vellore, a seven-hour train journey away from his home.
Child welfare officials there said Fazlu had been able to tell them the names of his friends, parents and relatives, but had apparently confused Bombay (Mumbai) with Bangalore.
'Hiding in toilets'
Matters were not helped by the fact that the Hindi- and Kannada-speaking child had ended up in a Tamil-speaking state.
Ruby Nakka, a member of the Child Welfare Committee, told the BBC: "He said he was scared and hiding in the [train] toilets. We don't know why he said he was from Bombay."
After fruitless attempts to track down Fazlu's family to Mumbai, flummoxed authorities turned to the media.
His delighted parents happened to see him on a TV news report saying how much he wanted to be reunited with his family in time for the Muslim festival of Eid.
Fazlu's mother, Dilshad Ghouse Pasha, a garment worker, told the BBC: "We had been looking for him everywhere. But we never thought he would go to Tamil Nadu. We were so surprised and relieved when we saw him on TV."
The youngster has since been showing off the Tamil language phrases he picked up during his impromptu holiday.