Fear and loathing on the campaign trail for Afghan MPs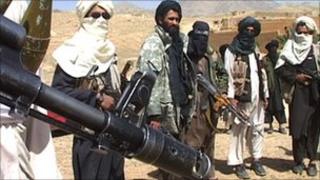 Mahmood Gilani's life is in danger.
He is part of a group of people in Afghanistan who are under direct threat from the Taliban.
As the insurgents see it, his "crime" is to stand as a candidate for the parliamentary elections on 18 September.
Mahmood admits he is scared, but that won't stop him from running as an MP for the eastern province of Ghazni.
"Everyday I'm worried; my family's worried," says Mr Gilani. "But we have this aim to take Afghanistan out of this current crisis. If it means risking my life I will go ahead with it."
Campaigning in Afghanistan's second parliamentary elections has become a matter of life or death for some candidates and their teams.
'No-go' constituencies
The Taliban have been true to their threat to target anyone involved.
Three candidates are dead, while 23 campaign workers have been killed and 22 injured.
One candidate in Ghazni was kidnapped and beheaded, another was put in hospital after an attack with a hand-grenade, and a massive bomb was detonated close to where campaigners are lodging.
Beyond the relative safety of Kabul, many candidates are so scared they are unable even to visit their constituencies.
Ghazni lies in the troubled south-east of Afghanistan. Just 3,000 Polish and American troops are based there facing a virulent insurgency.
Parliamentary hopefuls have police protection and those who can afford it use bullet-proof cars and employ heavily armed bodyguards.
'State of anarchy'
Fourteen of Ghazni's 18 districts are either controlled by the insurgents or under their influence.
Nearly a third of polling stations will stay closed on election day.
Even in the provincial capital, the Taliban operate with impunity.
Mahmood Gilani calls it a state of anarchy.
"In these circumstances elections in Afghanistan will be disastrous," he says. "It will again be a fraudulent election. People have lost their trust in the government system."
Despite the risks, he has ventured out into the countryside to campaign.
Drinking pale green tea, shaking hands and sharing prayers is what helps to win votes here.
But above all, it is the power and influence of village and tribal elders that is the key to success. They can guarantee hundreds of votes in one fell swoop.
But this tried and tested system only works if people feel safe enough to vote; there is little evidence they do.
Abdul Hadi runs a small spice shop in Ghazni city.
He is almost indignant at being asked if he will turn out to vote.
"I don't have a card and I'm not going to vote because if I do I will be slaughtered and beheaded," he says. "They [the Taliban] will cut our ears and noses. It has happened before."
Taliban ring tones
It is a mark of how deep the fear runs that many people in Ghazni have Taliban songs on their mobile phones or on cassettes just in case they are stopped at insurgent check-points.
A local journalist filmed the insurgents for the BBC.
The pictures show more than 20 militants roaming freely on their motorbikes with rifles and rocket-propelled grenade launchers on show.
They are well-armed, highly mobile and ruthlessly effective.
Their commander, Mullah Rohani, refused to answer our questions about their tactics, or the death of so many civilians at their hands.
But he made it clear he will do whatever it takes to stop people from voting.
"Elections aren't possible here," he said. "Last year, during the presidential race, a few people came by helicopter and stuffed the ballot boxes.
"Today, the district is under the total control of the Islamic Emirate of Afghanistan. No candidate, election worker or voter can enter."
Many provinces have similar stories. After last year's fiasco in the presidential election - which was overshadowed by allegations of fraud and outbreaks of violence - the credibility of the government and the international mission depends on the parliamentary vote being a success.
But once again, security and corruption could undermine that hope.