Afghans suffer as food prices spiral upwards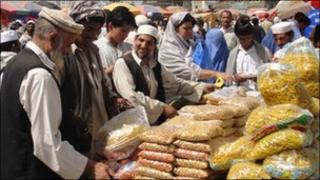 Sky-rocketing food prices are threatening to cause misery in Afghanistan as the country returns to its normal routine after Eid-al-Fitr, the biggest religious festival in this Muslim-majority nation.
Some Afghans perennially struggle with poverty and food insecurity, but the recent floods in neighbouring Pakistan last month have compounded their problems.
The landlocked country is heavily dependent on Pakistan for most of its essential goods and food items.
Afghanistan had its own floods, which have not only made those essentials more expensive, but destroyed thousands of acres of arable land in the process.
Snowball
Everywhere it is possible to see how the rising prices of wheat, rice and cooking oil have squeezed the wallet of the average Afghan.
Shopkeepers in Mandi, the main food market in capital Kabul, say they are facing agitated customers every day.
They warn that if the government does not take action soon, the problems could snowball into law-and-order difficulties.
"Customers think we are behind the spike in prices. When we try to explain that flooding in Pakistan - and not the traders - are responsible for the sky-rocketing prices, they hurl abuse at us," said a frustrated Mohibullah, who sells groceries in Mandi.
"One customer even slapped me when I refused to sell items to him at the old price."
Mohibullah, who uses only one name, said that rice has gone up by about $2 (£1.20) per kg since the floods hit Pakistan.
A bag of flour is costlier by $8 and a kilogram of cooking oil is now dearer by 63 cents.
The prices of vegetables, sugar and meat have all quadrupled in recent days, putting them out of reach of an average Afghan who earns less than $3 a day.
'No government'
"You are selling a kilogram of sugar for 80 Afghanis. Aren't you scared of God?" Mohammad Khan, who was out doing his shopping, screamed at Mohibullah.
"I am paying more for it. And so, I will have to pass on the extra cost to you," Mohibullah shouted back.
Like many other shoppers, Mr Khan was not convinced by that argument.
"There is no law, no government in this country," he complains as he reluctantly pays what Mohibullah was demanding.
"We have to eat after all," he laments.
Khan Jan Alokozai, of the Afghan Chamber of Commerce, says traders have lost more than 2,500 truck-loads of food items in the Pakistan floods.
"The trucks were loaded and ready to hit the road when the floods struck," he said.
Mr Alokozai said recent forest fires in Russia, another big trading partner of Afghanistan, have also added to people's difficulties.
"Thousands of acres of standing crops were destroyed in the forest fires in Russia. Both Pakistan and Russia now have less to export. The shortage of commodities means higher prices."
Mr Alokozai also blamed "heavy taxes" imposed by the Afghan government for the crisis.
"The government should have offered some relief [in taxes]," he said. "But it seems no-one is listening. The prices dampened the mood ahead of Eid."
A senior official in the government termed the taxation "standard" and accused the traders of trying to take advantage of the situation.
''Most [traders] fix arbitrary prices. They are to blame. Sometimes they import more; sometimes they store it all up. This leads to a shortage in the market and a spike in prices," the official said on condition of anonymity.