Drone attack kills 12 in Pakistan's North Waziristan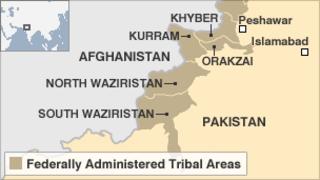 Twelve people were killed when several missiles were fired by a suspected US drone targeting militants in north-west Pakistan, security officials said.
The pre-dawn attack - the third in less than 24 hours - took place in Dargah Mandi village near Miranshah, the main town in North Waziristan province.
The attack was directed at Pakistan-based Haqqani group, officials said.
It is the 12th drone strike this month in the region, a stronghold of the Taliban and al-Qaeda.
The attacks have killed hundreds of people since January 2009 and fuelled anti-American sentiment in the country.
'Panic'
Reports said the drones fired at least 10 missiles. Many people were reported injured in the attack.
Residents said there was panic in the village as the drones were heard just before dawn.
"As the US drones came over the village people started shouting and running here and there, shouting - run, drones have come," news agency AFP quoted a local tribesman as saying.
Officials declined to comment on the identity of those killed and wounded.
But residents said the targeted houses were owned by a local tribesman who had rented them out to militants, AFP reported.
They said the dead were all insurgents.
On Tuesday, eight militants were killed in a raid targeting a militant hideout in Shawal district in the North Waziristan.
Another four militants were killed in Qutabkhel village when drones fired missiles on militant vehicles.
The American military does not routinely confirm drone operations, but analysts say the US is the only force capable of deploying such aircraft in the region.
Pakistan publicly objects to the strikes, but analysts believe such raids have the private backing of officials.