Kashmir crisis talks end without concrete agreement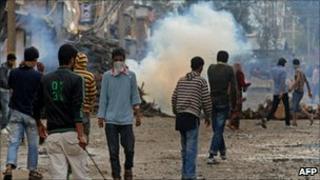 Talks chaired by Indian PM Manmohan Singh over continuing violence in Kashmir have concluded as police shot dead four more demonstrators.
The meeting ended with agreement to send a fact-finding team to the region.
But there was little headway made over whether or not to lift 20-year-old emergency laws that shield Indian forces from prosecution.
Nearly 100 protesters have died in anti-India protests since June and the entire Kashmir Valley is under curfew.
Nearly all of those killed were shot dead by government forces.
The prime minister told Wednesday's meeting at his home in the Indian capital, Delhi: "The only path for lasting peace and prosperity in Jammu and Kashmir is through dialogue and discussion.
"We are ready for dialogue with anybody or any group that does not espouse or practise violence."
He added: "I was shocked and distressed to see young men and women - even children - joining the protests on the streets."
A BBC correspondent in Delhi says there is a sense of confusion among politicians - and no consensus about how to respond to the unrest.
The main opposition Bharatiya Janata Party (BJP) and the main regional parties from Kashmir, among others, attended the talks.
The negotiations concluded with the commitment to send the fact-finding mission and by stating that the Indian constitution "provides ample scope to accommodate any legitimate political demand through dialogue, civil discourse and peaceful negotiations".
No date was given for the mission's visit, however, and there were few details as to its remit, other than an order to meet different sections of the population and gather all shades of opinion.
Separatist leaders dismissed the gathering as a public relations ploy.
"The meeting is a cosmetic and half-hearted measure," said Mirwaiz Umar Farooq. "Our focus continues to be on the bigger issue of resolving the Kashmir dispute."
Christian school
Meanwhile, at least 12 people were injured in addition to the four killed in clashes on Wednesday in the town of Mendhar.
Several hundred protesters were demonstrating over alleged Koran desecrations in the US and were marching towards a Christian missionary school.
"We had to open fire to quell the mob that was marching towards the missionary school with intent of setting it ablaze," a police spokesman told the BBC.
He said that at least six government buildings had been set on fire.
A Christian school in the valley was burnt down by protesters on Monday, the worst day of violence so far this summer when police shot dead 18 civilians.
The BBC's Altaf Hussain in Srinagar says that the targeting of Christian institutions is highly unusual, because there has been little inter-communal violence in Indian-administered Kashmir in recent years.
Many analysts see the recent protests as the biggest challenge to Indian rule in Kashmir for two decades.
The Kashmir dispute has been the cause of major tension between India and Pakistan for six decades.