EU agrees trade concessions to flood-hit Pakistan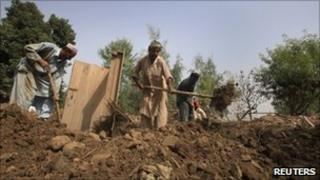 The European Union has agreed to make trade concessions to Pakistan to help it overcome the impact of flooding, diplomats say.
Details of the concessions are not yet available, but British diplomats told the BBC that potentially they could be worth millions of dollars.
They say the deal could allow Pakistan significant reductions in duties paid on textile exports to EU countries.
The International Monetary Fund has agreed to provide a $451m loan.
The IMF said that money would immediately be made available to Pakistan.
It said it hoped its decision would encourage more lending by international donors.
Opposed
British diplomats in Brussels told the BBC that Thursday's agreement would in principle allow Pakistan to avoid paying in duties on key imports to the European Union.
But correspondents say that countries within the EU that have significant textile industries - such as France, Italy and Portugal - may be opposed to the move.
Any move to grant Pakistan a waiver on textile duties would also require the consent of the World Trade Organisation (WTO) to ensure trade rules are not violated.
The details will be determined in the coming weeks, with the European Commission working with the WTO to finalise how the concessions can be be implemented.
Meanwhile, some of the estimated 10 million Pakistanis displaced from their homes by the massive July monsoon floods have begun tentative salvage operations.
The BBC's Mark Doyle in the north-west of the country says that piles of bricks are some of the first things people salvage from houses destroyed by the water - and the first task is to scrape away several feet of dried mud and river silt.
UN refugee agency head Antonio Guterres - who is also in the north-west - said that with 20 million Pakistanis affected by the floods and so many displaced, the aid effort was inevitably going to be short of what was required.
He said the international community had a duty to give more money and it was in their "enlightened self-interest" to do so, because if people in Pakistan felt angry and abandoned, this had potential to lead to turmoil and instability.
Elsewhere, new flooding has been reported from around the town of Dadu near the Indus river in Sindh province.
The army is continuing relief efforts, rescuing hundreds of people trapped or isolated by floodwaters in the area.
The floods which hit the country at the end of July have killed at least 1,500 people and devastated large areas.
The UN has said that billions of dollars will be needed in the long term.
But charities say the response to the UN's appeal has been sluggish.
The US has made the biggest contribution so far, followed by the UK.
UK Deputy Prime Minister Nick Clegg has called the international response "lamentable".