India appeals for calm ahead of Babri mosque verdict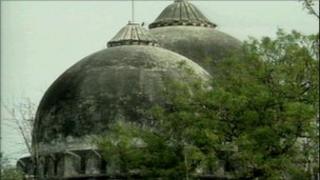 The Indian cabinet has issued a written appeal in major newspapers, calling for calm ahead of a court verdict next week on the long-running Ayodhya dispute.
On Friday, a court in Lucknow city refused to defer the ruling which is due to be announced on 24 September.
The court is to rule who owns land in the northern town of Ayodhya, where the 16th Century Babri mosque was destroyed by Hindu mobs in 1992.
Hindus claim the site is the birthplace of their god, Lord Ram.
The destruction of the mosque led to widespread rioting between Hindus and Muslims, and some 2,000 people died.
It was some of the worst Hindu-Muslim violence since the partition of India in 1947.
'Sensitive issue'
The cabinet appeal carries the name and photograph of Prime Minister Manmohan Singh and it takes up half a page in major newspapers.
"The government appeals to all sections of society to maintain peace and order after the delivery of the judgement," the appeal reads.
"There should be no attempt whatsoever made by any section of the people to provoke any other section or to indulge in any expression of emotion that would hurt the feelings of other people," it says.
Officials say the appeal will also be carried in various languages on Indian radio over the coming days.
The BBC's Chris Morris in Delhi says it is a sign of just how sensitive, and potentially inflammatory, the dispute in Ayodhya is.
India's home ministry has already warned that the legal decision is likely to evoke sharp reactions and communal passions.
And the state government in Uttar Pradesh, where Ayodhya is, has asked for 50,000 extra security forces to deal with any law and order problems.
Hindu fundamentalist groups are still determined to build a temple on the disputed site in Ayodhya and now the court is about to issue a legal ruling on what is a contentious matter of faith, our correspondent adds.
Meanwhile, an application to defer the judgment because of fears about the security situation was rejected by court on Friday.
A three-judge special bench of the court rejected the application filed by Ramesh Chandra Tripathi.
Mr Tripathi had asked for the decision to be postponed to give the two sides times to reach an amicable settlement through reconciliation.
The judges also fined him 50,000 rupees (£700; $1,100) for wasting the court's time.
Now that the plea has been rejected, India is holding its breath and hoping for calm in a week's time.