Fraud casts doubt over Afghan election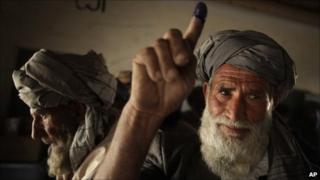 It was not the most auspicious start. Twenty minutes past the 0700 (0230 GMT) opening time, and the polling station in eastern Kabul still had not opened.
But then the small line of voters were allowed in, each was searched and their voting card inspected; Afghanistan's parliamentary elections were under way.
In the last election, five years ago, hundreds had queued outside city polling stations.
But this time, turnout appeared to be lower; that was especially true in Afghanistan's volatile southern province.
As voters left the polling stations, some showed off the indelible ink on their fingers.
Blue, black and purple, it was intended to stop people voting more than once.
But outside a polling station in the west of the city, a voter was one of many able to wash the ink from his finger.
"They are not checking people's fingers properly. I could wash it off with water - it's very poor quality. Why are they cheating the nation with this fraud?" he said.
An election monitor at the site said the ink had been changed.
"The problem with the blue ink is that it can be washed off, so we complained, and the ink was changed to black, which couldn't be removed."
In fact, the Free and Fair Election Foundation of Afghanistan said people were able to wash the ink off their fingers in 2,950 polling stations across the country.
In Logar province, one man said that some had voted many times.
"Some people in our neighbourhood voted several times: they managed to clean their fingers and used fake voting cards to vote again and again," he told the BBC.
But ink was not the only problem. Fake voting cards were discovered in a number of provinces, sometimes in their thousands.
And there have been allegations that election officials have been accepting bribes.
At the polling station in eastern Kabul, police spent some of their time chasing away campaign supporters who arrived in cars covered in campaign posters, despite a ban on active campaigning.
Long wait
Kabul has been covered in election posters for weeks.
It is evidence of the record number of candidates standing, some 2,500 for 249 seats.
There are more women standing than ever before and more young people.
Despite its problems, it has been a vibrant campaign.
Armed police were present at Kabul polling stations.
Overnight, the Taliban signalled their opposition to the vote by firing a single rocket into the city.
There were widespread reports of violence across the country, and many deaths, but the Taliban and other insurgents failed to derail the vote.
Irregularities were expected in this election.
President Karzai's government and his international partners need it to be a success - proof that life here is improving.
But the full extent of fraud will not be known until later.
The remoteness of some polling stations mean donkeys have been used to ferry ballot boxes to and from the sites.
And votes will be counted by hand, so the results are not expected to the end of October at the earliest, and even then will subject to appeal by the candidates.