Beggars removed from Sri Lanka railway stations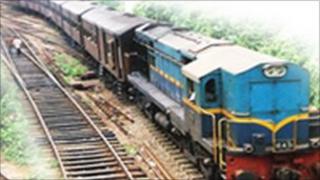 All beggars are being removed from Sri Lanka's railway stations, authorities say.
A spokesman for Sri Lanka Railways (SLR) told the BBC that beggars were being stopped from entering stations or were being removed from them.
He said that although some beggars were good people, others were robbers and that beggars were adding to crowding in an already congested train system.
Earlier this year begging on trains and buses was outlawed.
The SLR security staff and the police are involved in the operation at railway stations.
It is the latest move to try to make urban areas more orderly but the government is not receiving undiluted praise for it. As in most countries, begging is an emotive issue.
One reader commenting on the local Daily Mirror website described beggars as "parasites" but another said many people had no safety net and had no option other than taking to the streets.
After last April's general elections pavement vendors, too, were removed from the main locations they had frequented in the capital.
In one central but dilapidated area, more than 40 families were evicted and their makeshift homes demolished.
Those actions were carried out by the Urban Development Authority, which has now been placed under the control of the powerful Defence Ministry.
The mainly Muslim inhabitants said they had title deeds to the land and that they had been evicted with no warning.
The authorities say they want to tidy up the city and they have promised new precincts and homes to those affected.
But many are still waiting for those new places to live and work.