Commonwealth Games 'shame' angers Indian press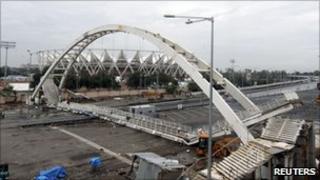 Doubts have been cast over next month's Delhi Commonwealth Games after officials severely criticised the state of the athletes' accommodation and a footbridge near a stadium under construction collapsed. The problems are front page news in the Indian media, with many writers sharply critical of developments.
"Commonwealth Games India's Shame," headlined The Times of India.
"India has been shamed globally - by politicians and officials who have been exposed as callous and inept, and possibly corrupt," the newspaper said.
"India stands humiliated. The world knows the bridges we build collapse; that we can't even keep loos clean. Who is responsible for the national shame?"
"India's Games Shame Growing," said The Asian Age.
"With just 11 days to go for the start of the Commonwealth Games in New Delhi, it is no longer possible to judge just how much shame and embarrassment a bunch of inept, inefficient and corrupt administrators will heap on this nation's head," the paper said.
"We, however, have not only had to lump their doings, but look on in increasingly impotent rage as tales of mayhem and mismanagement continue to sprout and proliferate. Shame on us!"
The editorial said the bridge collapse raised particularly troubling questions.
"If a relatively insignificant structure can collapse.. just how safe are the rest of the structures that have been erected in a tearing hurry after years of inactivity?"
The Indian Express described the developments as a "double whammy of embarrassment and humiliation".
The Mumbai-based newspaper DNA said the embattled organisers "will have a lot of explaining to do" when Commonwealth Games federation chief Mike Fennell arrives in Delhi for the opening of the athletes' village.
The lead story in The Hindu referred to the problems as "a huge setback for the organisers", while another article in the newspaper called it "a day of embarrassment for Delhi".