Help for Mumbai victim after wife's 'mercy killing' plea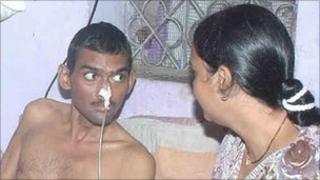 An Indian man severely wounded in the 2008 Mumbai (Bombay) attacks may now receive the medical treatment he needs - after his wife raised the prospect of mercy killing him, prompting a flood of offers of help.
Baby Choudhary told the BBC that her husband, Shyamsundar, had been bedridden and in "unbearable agony" ever since the attacks.
She said she had considered a mercy killing to alleviate his suffering.
Euthanasia is illegal in India and lawyers say that the courts would never grant permission for such a move.
But Ms Choudhary's suggestion that she has considered such a drastic step created a storm of interest in the Indian press.
It now seems Ms Choudhary and her husband may receive the help they so desperately need.
Following the press attention, many people have now promised them financial help and she hopes it will be enough to get her husband treated.
'If I could treat him, I would'
Mrs Choudhary told the BBC that her husband - who has lost his memory and has a speech impediment as a result of the attacks - would approve of the "mercy killing option" if the family could no longer cope with him.
He was injured by a bomb which exploded inside a Mumbai taxi on the evening of 26 November 2008, leaving his wife to look after a family of eight by herself.
In all, 174 people were killed in the attacks, nine of them gunmen.
Multiple locations were attacked in Mumbai. The 10 gunmen left explosives in the cabs in which they travelled that caused explosions around the city.
Shyamsundar Choudhary was in the wrong place at the wrong time.
"What can one do?" his wife asked. "The only time my husband opens his mouth is to cry in pain."
"I have two children, my husband's parents and unmarried sisters to look after. My husband cries in pain all day. If I could treat him, I would. But in the absence of any improvement we think it is better to die."
Shyamsundar sustained splinter injuries in addition to losing his memory.
He has received treatment from a government hospital and his wife regularly collects medicines on his behalf.
The compensation that he received after the attacks has now been used up.
Shyamsundar Choudhary used to work at a biscuit factory. Factory officials have not given his job to his wife which traditionally happens following tragic incidents of this kind in India.
"We requested them to give me some job but they have not. How long can I sit at home? People will not feed us forever," Mrs. Choudhary says.
She says that she also needs a job to allow her to look after a 10-year-old son and a six-year-old daughter.
"If I go for work then there has to be someone to look after my husband. Will the hospital provide for it?"
Help
Krishna Hegde, a member of the local assembly (MLA), heard of Mrs Choudhary's plight and got in touch with the family on Tuesday with an offer of financial help.
"I have given them some help from MLA funds and am helping her to get a job as well," he said. "I have also asked the factory where Shyamsundar worked to help him out on humanitarian grounds.
"After reading the media reports many people have now offered help, including people from abroad."
Some have offered to train Mrs Choudhary - who completed a school education but never went to college.
Others have offered to provide for her children's education. But for the moment she is busy making and answering telephone calls, requesting help from everyone and waiting for the funds to arrive.
She says that her husband's life depends on it.