Row over 'untouchable' Indian dog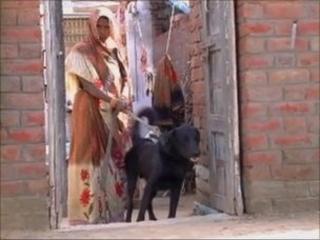 Police in India are investigating claims that a Dalit woman has been ordered to pay compensation to the high-caste owners of a dog she fed.
The woman says the village council wants her to pay a fine of 15,000 rupees ($330) for feeding the dog, which the owners have now kicked out.
They are reported to have said the dog is "untouchable", but deny being motivated by caste considerations.
Although widespread, discrimination against Dalits is an offence in India.
Dalits, who make up nearly 20% of the Indian population, say little has changed despite the government enacting various laws banning caste-based discrimination.
'He got very angry'
The incident took place in Malikpur village in Morena district in central Madhya Pradesh state.
"I made some roti [Indian bread] and took it to my husband who works in a farm. After I had fed him, we had some leftovers which I gave to the dog," the Dalit woman, Sunita Jatav, said.
She said the owner of the dog, Amrutlal Kirari, saw her feeding him.
"He got very angry and said 'You've fed my dog, it has become an untouchable now'."
Mrs Jatav said Mr Kirari left the dog, a black mongrel called Sheru, tied to a pole outside her house.
On Monday, the village council met and decided that Sheru had been defiled and hence Mr Kirari should be paid 15,000 rupees as compensation, Mrs Jatav alleged.
On Tuesday, she approached the district collector of Morena who ordered an inquiry into the incident.
Senior police officer in the area, Baldev Singh, told the BBC that he was investigating the matter.
He said Mr Kirari had alleged that after eating the bread, Sheru fell ill.
Mr Kirari said he abandoned the dog at Mrs Jatav's house so she could look after it and nurse it back to health, Mr Singh added.
Dalits - formerly untouchables - are considered at the bottom of the Hindu caste system.
Any discrimination against them is an offence and punishable by law.