Trio cleared of bombing Danish embassy in Islamabad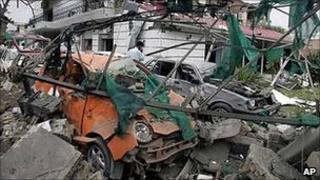 A Pakistani court has acquitted three men accused of involvement in the bombing of the Danish embassy in Islamabad, a public prosecutor says.
The men were arrested several months after the suicide car bomb attack that killed six people, including a Dane, in June 2008.
Prosecutor Mohammad Tayyab said the judge had ruled there was insufficient evidence against the men.
He added that prosecutors would challenge this in the high court.
"We believe our case is very strong and the high court will analyse our evidence again and decide the case in our favour."
The al-Qaeda network claimed responsibility for the attack, which came amid anger in the Muslim world over cartoons of the Prophet Muhammed printed in Danish newspapers.
Militants linked to al-Qaeda and the Taliban have killed thousands of people in attacks in Pakistan in recent years.