Trial of former Sri Lankan army commander is adjourned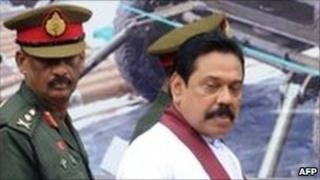 The trial of Sri Lanka's former military commander has been adjourned for a day, as the country's powerful defence secretary arrived in court.
Gotabhaya Rajapaksa, widely regarded as the mastermind of the military victory over the Tamil Tigers, was to have testifed against Sarath Fonseka.
But the army commander during the time of his victory was ill, causing the proceedings to be delayed.
He has already been found guilty of offences in two military courts.
Gotabhaya Rajapaksa is the brother of President Mahinda Rajapaksa.
War crimes allegations
This is the most sensitive of the cases which the Sri Lankan state is bringing charges against the man who challenged Mahinda Rajapaksa for the presidency.
He lost, and was swiftly taken into detention.
The press nickname this the "white flag" case.
Sarath Fonseka is accused of spreading public disaffection by quoting allegations that the defence secretary ordered surrendering Tamil Tiger leaders to be shot dead last year.
Mr Rajapaksa has denied doing any such thing and has expressed outrage at the statements of his former friend, now bitter enemy, who was the army commander at the time.
Mr Fonseka says he was quoted out of context.
The opposition leader, Ranil Wickremesinghe, has asked why more Sri Lankans were not speaking out to back Mr Fonseka, who secured 40% of the presidential vote.
"Are we so scared?" he asked the crowd addressing a rally.
Since Thursday the army has been blocking the former military chief from attending the parliament. He was elected an MP in April.
The blocking comes after two military courts found him guilty of assorted charges.
Mr Fonseka's political supporters say he is being illegally denied his parliamentary privileges.